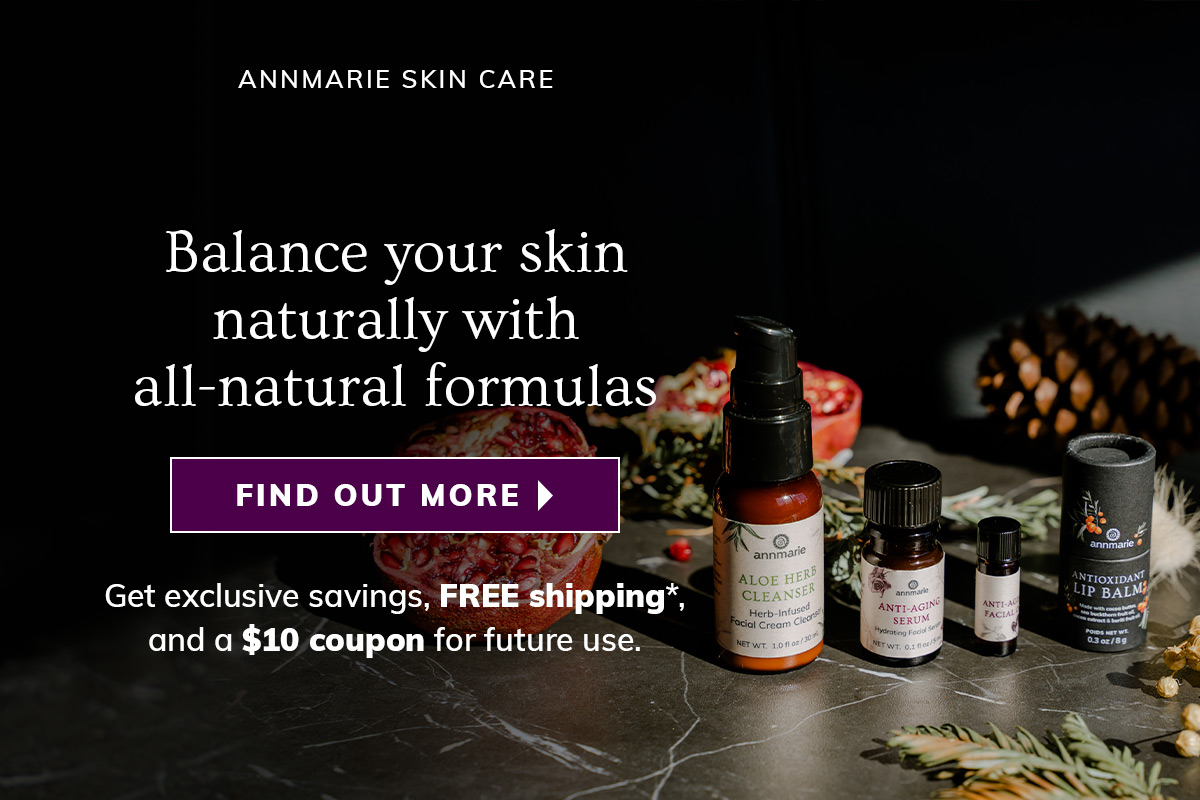 There is something special about Annmarie Skin Care. Not every single one of their products has me gush and rave, but the Anti-Aging Serum is a concentration of all the things that make natural skincare in general, and the brand Annmarie in particular, such a treat.
At worst, natural skincare is a fairly pleasant-smelling concoction that contains a decent portion of natural ingredients and not too many dodgy synthetics. At best? It's something like this serum. With a scent that wouldn't seem out of place wafting from the opening of a high-end perfume bottle. Ingredients all-natural, and mostly also organic. A potion formulated by professionals, with a lengthy list of natural and/or botanical extracts, selected for their individual impact on the skin, as well as complementary and synergistic effects.
Basically, the Anti-Aging serum is goodness in a bottle.
And there's a small bottle in the special introduction kit, which runs until the end of October 2020. It's not full size, though more than enough for a solid try-out. A little goes a long way. Fair warning – if you end up keeping it on your desk like me, you may end up using little bits throughout the day.
I'll also admit that while my skin does eagerly drink it up, it sometimes is a craving for the fragrance that has me reaching for the bottle. Just another little dab, as a pick-me-up. Scents are, of course, extremely personal. It makes little sense for me to factly state this smells divine because opinions vary and your experience could be entirely different.
A Little Bit of Background / Peek in the Lab
In this newsletter (*), the COO describes how she took a tour of the facilities. If you're into that kind of stuff, you'll love reading about how there even are crystals and precious stones placed in the lab spaces. And even if you're not, admittedly it does reflect an exceptionally high level of care and concern.
(*) I couldn't find the content of this newsletter as an official Annmarie Skincare blog post to link to. For lack of it, I copied the text onto a separate page on this website.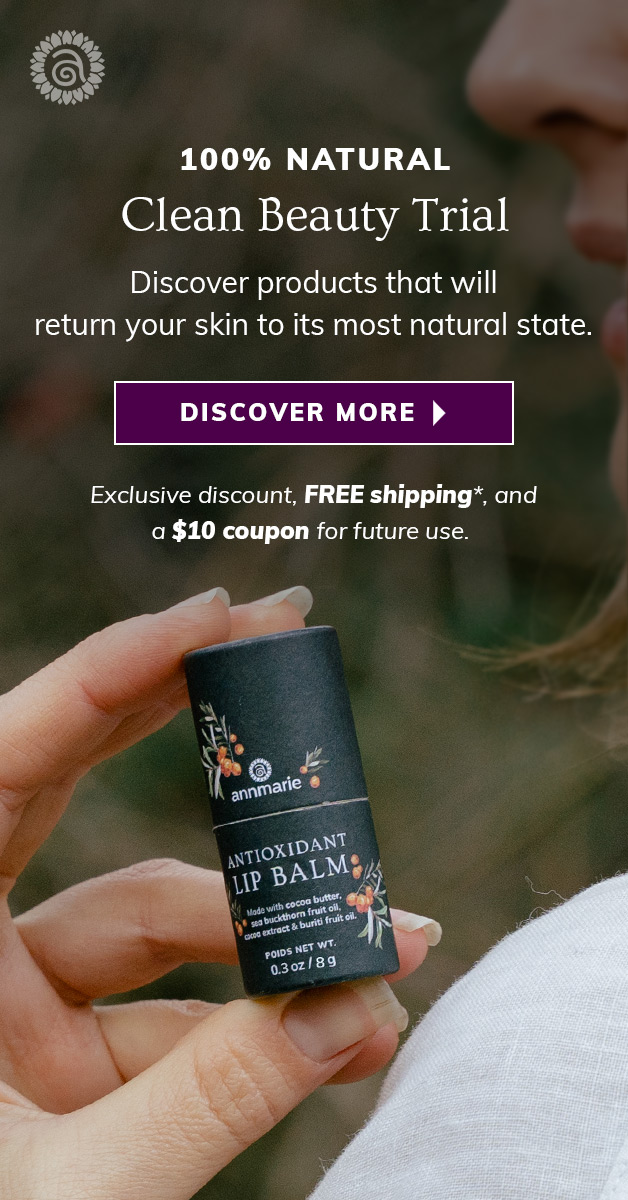 As with most things in the realm of the metaphysical, there could be something there. However, I'm definitely "in it" for the precious ingredients with noticeable and measurable effects, not the precious stones. Not any time soon will you find me dropping my moolah on an overpriced vial filled with some highly-vibrational substance. But if it contains some of the best natural, organic skincare available, then yes, please and thank you.
Whether the energy of the crystals actually does something is hard to prove, but the Annmarie Skin Care lab sure sounds like a lovely, peaceful place to work. And happy people in the workplace do function better – there's a fact. It's not much of a stretch to say such a vibe trickles down to the product they're involved in making.
Packaging
Annmarie Gianni's Anti-Aging Serum comes in a 15 ml (about 0.5 oz) glass bottle with a pump. Miron Violet glass.
Texture & Color
The Anti-Aging Serum is thin, quite fluid, semi-translucent, and light yellowish in color.
Skin Type
This is one of the rare anti-aging products I know of that works great for all skins, even oily. If you have oily skin (with or without breakouts) at an age where you're kind of also wanting to reach out to something that combats aging? This serum with its silky, matte texture could be just the right fit.
Anti-aging skincare is usually all about nutrition and not very suitable for oily skin, but Annmarie Gianni's Anti-Aging Serum doesn't leave the faintest greasy feeling. Skin types on the oily end of the spectrum shouldn't be bothered by its consistency, all while being able to benefit from its properties.
As for more dry and mature skin types, this is obviously not a moisturizer. I find that it does plump up my skin a little bit and makes it softer. To charge the day, add your favorite moisturizer after giving this serum a minute to sink in.
Fragrance
As mentioned earlier, I find the scent to be truly amazing. The anti-aging serum contains essential oils of rose (absolute), frankincense, sweet myrrh, vetiver, and jasmine. Rose and vetiver are the two notes that jump out to me most. Whether this is the same for you may or may not depend on which scents you're most familiar with. There is definitely an 'olfactory backdrop' consisting of the many other botanicals in the product.
Ingredients (INCI)
Ingredients, INCI: Love, organic rose distillate; organic aloe vera gel; organic rose distillate & vegetable glycerin herb extract of gotu kola leaves, gingko leaves, rosemary leaves, calendula flowers, comfrey root, fennel seed; rhodiola root; life everlasting flowers, milk thistle seed;  plantain leaves; rooibos, shavegrass, nettle leaves, amla berries, seabuckthorn berries; olive-derived sodium hyaluronate; organic edelweiss extract; organic buddleja davidii extract; organic flax seed extract; organic sunflower seed extract; organic red raspberry seed extract; organic chia seed oil; organic carrot seed oil; organic tamanu oil; organic rosehip seed oil extract; vitamin E tocopherols (non- GMO); aspen bark extract; essential oils of rose absolute, frankincense, sweet myrrh, vetiver, jasmine sambac; organic rosemary leaf extract; xanthan gum.
Annmarie Skincare never uses any synthetics or artificial fragrances, and, of course, none of the ingredients or final products are tested on animals. If you're looking for the best organic anti-aging skincare, it doesn't get much better than this.
What I love about the Annmarie Skincare Anti-Aging Serum:
How it's bursting with precious extracts and I can pretty much feel the skin benefit from all that under my fingertips.
It can be used around the eyes without any issue. Please note that this is something I'm saying – it's not the official stance of the brand. But I don't care much for eye creams and prefer stuff that's good enough to use everywhere. This serum doesn't cause me any issues, which is more than I can say about many actual eye creams. Given that it also contains more beneficial ingredients than many of those actual eye products… it's a score.
The wonderful scent.
How it contains only all-natural, organic, or wildcrafted ingredients.
It's cruelty-free.
The possibility to sample before committing to a full-size bottle.
What could be better?
It's not exactly cheap. Alas… The good stuff rarely is. However, the sample packs are sent internationally free of charge.
Where to find the Annmarie Skincare Anti-Aging Serum
Through annmariegianni.com, a full size (15ml) is $60 and a travel size (5ml) is $23.
Until the end of October 2020, the travel size is included in a special discovery offer (together with the Aloe Herb Cleanser and the Anti-Aging Facial Oil) for $15.
The Anti-Aging Serum has an impressive full five stars from almost 1500 reviews, by the way! For other skin concerns than anti-aging, check out the rest of the Annmarie Skincare range – they have different sample packs available to make it easy to figure out what's best for your skin type. 
The different sample packs allow you to pick a set of mini's appropriate for your skin type, without spending a fortune. The way this page is set up, you're led to work your way through a couple of questions to determine which sample pack is best suited. That can be helpful, but I can also imagine not everyone might be into that kind of thing. If that's you, here's where you can scope out the sample packs without jumping through hoops, and self-select the one you want.
What do you think of Annmarie Gianni's Anti-Aging Serum?