Attempting to scrape the last bits out of the jar of my indispensable homemade deodorant recipe for days, I considered getting a store-bought one. For just a moment… right after which I remembered how none of those attractive looking bottles were ever as reliable and efficient as a simple homemade deodorant recipe. This recipe is so simple, economical and nonetheless super solid, it's ridiculous. Since no ready-made deodorant has yet been able to top it for me, it looked like I just had to make some time to blend. During a few very busy weeks, I just paused everything else, dove into the kitchen and made a monster batch!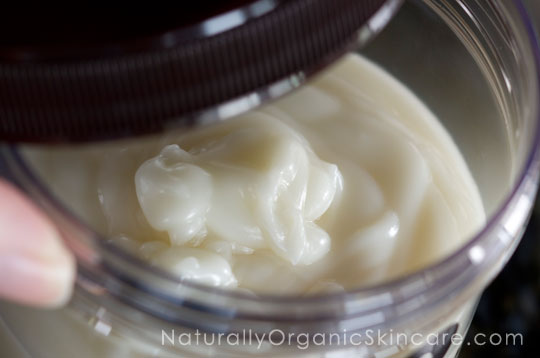 Being in a bit of a rush and not having all of my usual ingredients on hand, this homemade deodorant recipe has been simplified even more. Only five ingredients. No frills, no experimenting. Mainly focused on quick & easy blending, keeping just the main ingredients necessary for it to work. This homemade deodorant recipe is perfect in it's simplicity.
You could easily change it up and make it more fancy. For example, with a combination of different essential oils instead of just the spearmint. Or substitute other carrier oils for the coconut oil. It you're vegan, the beeswax can be replaced with either candelilla wax or soy wax. (Proportions may need some adjustment, since the hardness of these waxes is not exactly the same as beeswax. Check out this vegan homemade deodorant recipe, made with soy wax.)

Allright, here we go.
If you're always crazy busy like me 😉 and don't want to be making new deodorant every few weeks, try the following recipe for a monster batch.
A word of explanation about the spoon size.
The beeswax spoons are well filled with little pieces, but not over the top, as seen in the picture.
The spoons of oil are filled well, just stop pouring right before it spills over. That's one spoon.
The spoons with powders are not really heaping, they just have a slight top. No more than the spoon is deep, which isn't that much.
Hope this explanation isn't too vague – in the rush I used a regular eating spoon instead of a measuring spoon to throw everything together.
Homemade Deodorant Recipe with 5 Ingredients
Beeswax – 4 spoons
Coconut oil – 25 spoons
Arrowroot powder – 10 spoons
Baking soda – 10 spoons
Spearmint essential oil (or peppermint)  – 40 drops
Homemade Deodorant Recipe – Directions
In a double boiler, heat the beeswax and coconut oil together until all the beeswax has melted. While you're waiting for this, measure the arrowroot powder and baking soda in a separate bowl and mix them well. As soon as the beeswax-oil mixture is ready, pour about half of it into the powder mixture and start stirring right away. The idea is to work out lumps before adding the rest – this can be done with the back of a spoon, by crushing them. When the mixture looks smooth enough, add the second part and keep blending. Stir in the spearming (or peppermint) essential oil and mix thoroughly. Scoop into a jar. All done!
The perfect jar for this homemade deodorant recipe…?

This one may come unexpected. After finishing some Talenti Gelato for the first time (Where has this stuff been my whole life!?), I couldn't bear to throw such a beautiful transparent jar in the trash. It crossed my mind how pretty and delectable the ice cream looked in it, and how it could be the perfect vessel for a just as delicious homemade body butter. Don't you love to observe the creamy texture of a product, before dipping your spoon or finger into it?
Actually, I got curious and found a random article on google about the 'power' of this transparent packaging. (Read the aricle here.)
Bottom line is: there will be more of this ice cream on the menu from now on and I bet the jars can be used not only to store a homemade deodorant recipe, but for at least a hundred other things. Way to re-use, re-purpose and recycle.
Where to find the best ingredients?
A local organic store will probably carry at least four out of five of these ingredients. The only one that can be a bit more challenging to find is the beeswax. Perhaps there's a local beekeeper you could contact?
To save time, gas and money driving around, I'm a huge fan of shopping online. Mountain Rose Herbs is the best place to find everything natural & organic for your skin care creations.
For easy gathering of this homemade deodorant recipe's supplies:
Beeswax  |  Coconut oil  |  Arrowroot powder & Baking soda  |  Spearmint essential oil  |  Happy blending!