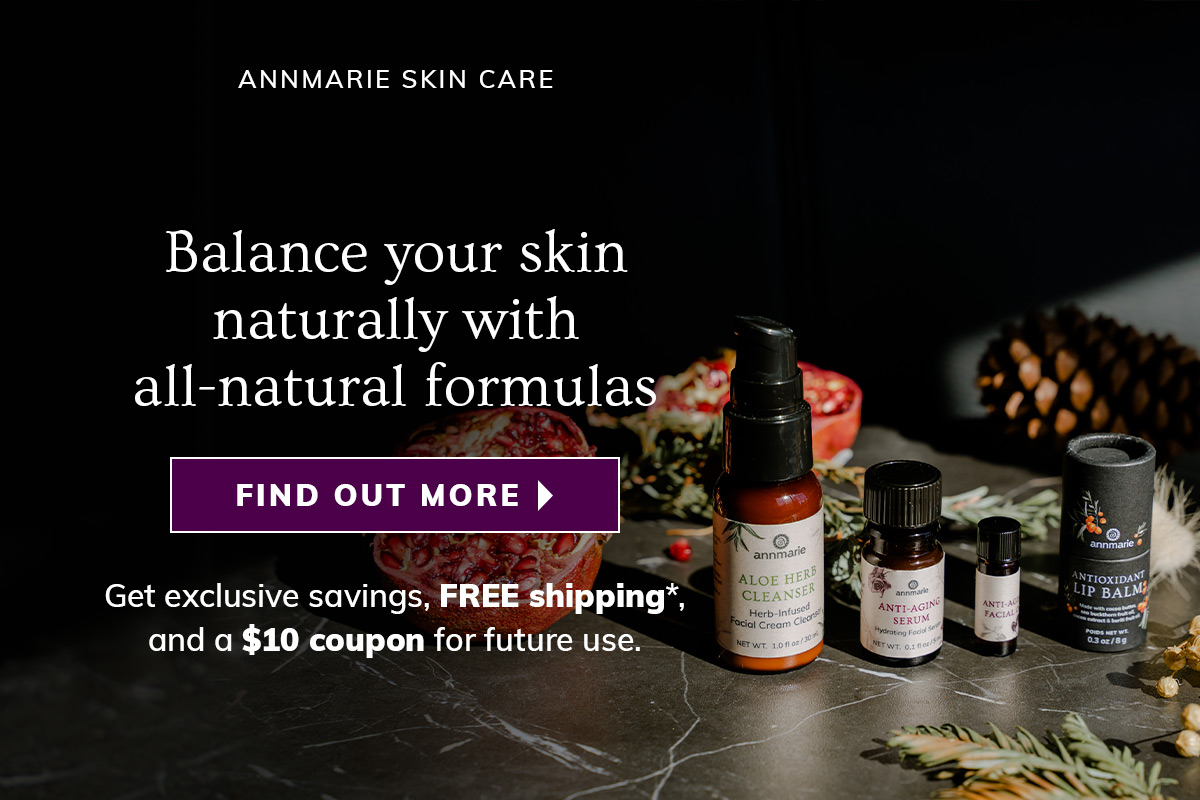 The thing with sensitive skin is that it can transcend all other skin conditions and skin types. Finding the best natural face moisturizer for sensitive skin is one thing, but you may need one that simultaneously addresses certain other aspects of your skin, such as dryness, excess oil production, acne, or aging. It works both ways – just because you have dry skin or oily skin, doesn't mean it can't also be sensitive.
Sensitivity can affect people of all ages, from newborns to those with mature skin. Even normal skin, that isn't particularly dry or oily, might still react with a certain sensitivity to harsh weather, extreme temperatures, other environmental factors or certain ingredients in skin care.
Especially when you are dealing with moderate or severe acne, sensitive skin can put you in a catch 22 situation. Acne and blemishes don't skip over the most sensitive skin types. It is most tempting to fight blemishes with some big guns: products and ingredients that are much more harsh than your sensitive skin would wish for. Exactly those things you would probably avoid at all cost, if it wasn't for needing to get rid of the acne. The good news is that there are natural solutions for all types of sensitive skin, including acne prone skin.
Analyzing Your Skin Care Routine & Ingredients
Extreme heat or cold can definitely be a challenge for sensitive skin. While there isn't a whole lot we can do to influence or change the weather, reevaluating your skin care routine is a great place to start. A fun way to look at face care is to see it as the closest environmental influence. It is a micro-environment created by you, through choosing certain skin care products.
What you're putting on your skin is ever so important when your skin is noticeably more sensitive than average. You obviously can't influence the weather or the outside temperature, and limiting sun-exposure may be somewhat of a challenge. However, the micro-environment you create by deciding what to apply to your skin is very easy to control and manage. That's good news!
Tailoring a skin care routine to the needs of increased sensitivity may require a few changes, but I think we'd all agree that the effort will be totally worth it for getting your skin (back) to its "happy place".
Common Irritants in Skin Care
Potential irritants in common skin care products are: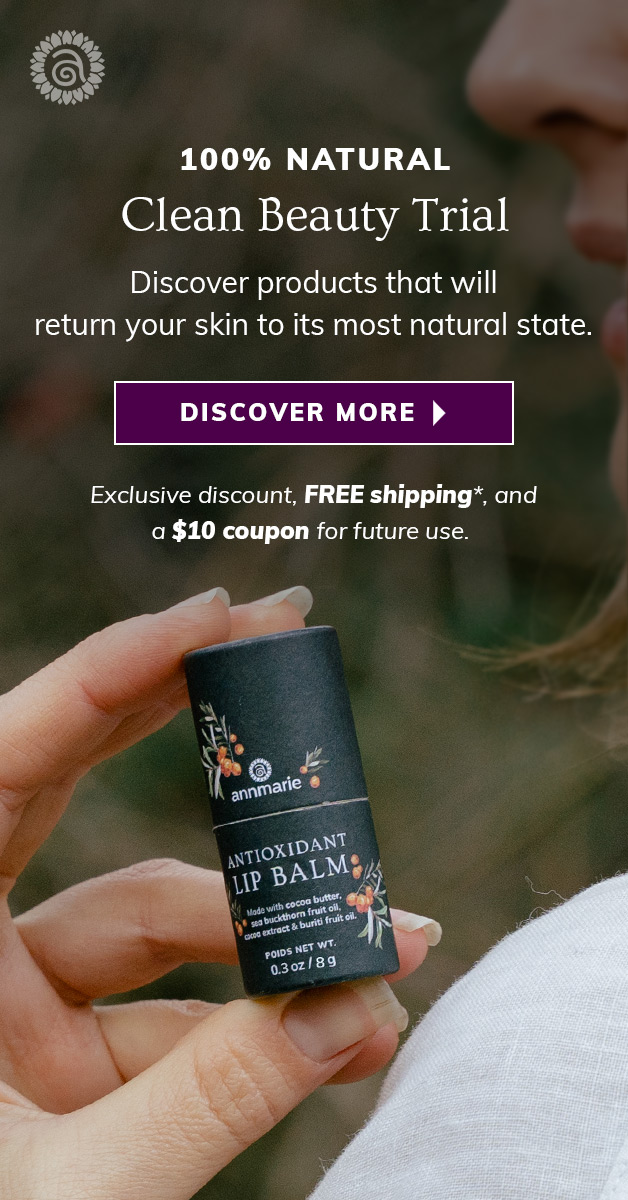 synthetic fragrances
preservatives
chemical UV filters
colorants
metals
petrochemicals
alcohol
Now, in all fairness, it needs to be said that natural ingredients can also cause irritation. Some essential oils can cause irritation, and the opinions of professionals vary on the use of alcohol, even when it is of natural or organic origin. Just because something is closer to its natural state, doesn't mean individual sensitivities are necessarily ruled out. Maybe you can enjoy a handful of peanuts, but you probably know (of) someone for whom coming near anything peanut-related would mean a trip to the ER! For some people strawberries, peaches, or even apples can have the same disastrous effect.
My stance is one of avoiding extremes. The synthetic ingredients in main-stream skin care products will of course not kill anyone on the spot. The shelves are full of them, and we're all still kicking, right? However, I do know from personal experience that changing from regular skin care products to more natural ones can much improve – or even solve – certain skin problems. Sensitivities can be triggered by synthetic substances, and all sorts of skin issues can have a hard time healing, because the skin's natural balance is disrupted.
What does a typical main-stream moisturizer contain?
When browsing drugstore skin care products for sensitive skin, you'll often notice how it says something like "fragrance-free" or "unscented". Fragrance is indeed one of the most sensitizing ingredients, but even without fragrance these common drugstore products targeting sensitive skin can still contain other 'nasties' and potential irritants.
It can be quite fascinating to look into the reasons behind the use of many of the ingredients in regular skin care. Some are first and foremost very cheap. Mineral oil, or petrolatum ("vaseline") is a waste product of the petrochemical industry. It is very, very refined, so it won't cause any blatant harm, but it also has no benefits what so ever. Except for being cheap, it is useless, but being cheap is what makes it a great choice in the eyes of the skin care industry. Loads of products on the shelves are made with petrolatum, or one of its derivatives.
Other reasons ingredients are included is for texture (while having no benefit to the skin), for freshness (to increase shelf life), for fragrance (fragrances are known irritants, as mentioned above), or just to make the consistency appear smooth and slick (silicone, dimethicone). Known to potentially be the cause of a cutaneous reaction are: Alcohol, Benzyl alcohol, Petrochemicals, and DEA, MEA, or TEA's.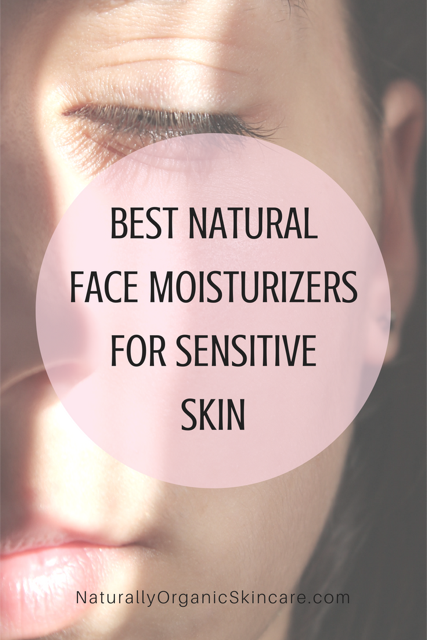 Top 3 Best Natural Face Moisturizer for Sensitive Skin
1. Sensitive facial cream by Acure, with Argan oil and Sunflower amino acids
This organic face moisturizer is for dry/sensitive skin. It contains botanical extracts of some of the most calming and soothing plants.
Calendula is famous for its healing effect on the skin.
Chamomile is a wonderful anti-inflammatory and calming on many levels. (Not limited to the skin – chamomile tea is commonly known as a "cure" for nervous tension, right?)
Aloe Vera also had some wonderfully calming and soothing properties. It is a staple ingredient in most after-sun skin care products.
Acure combines these healing herbs with a few more great additions for sensitive skin. Acai, pomegranate and blackberry contain a lot of anti-oxidants. While they're often used in anti-aging products, their regenerating effect on skin cells makes them a great choice for sensitive organic face moisturizer as well.
Together with the nourishment of olive oil, argan oil and shea butter, here's a lovely concoction of soothing, protecting and healing plants that will benefit the most sensitive skin types. This moisturizer works best for skin that is on the dryer side.
Oh yeah, and in case you're wondering: amino acids are the building blocks that protein is made of. Certain amino acids can stimulate the skin to produce more elastin and collagen. Amino acids stimulate the skin cells to produce more of those substances and as such support the skin's natural functions.
Acure Sensitive Facial Cream's Ingredients
INCI: purified water/aqua/eau, aqueous extracts/extraits aqueux: aloe barbadensis leaf juice, organic euterpe oleracea (acai) fruit extract, organic rubus fruticosus (blackberry) fruit extract, organic rosa canina (rosehips) fruit extract, organic punica granatum (pomegranate) fruit extract, organic calendula officinalis (calendula) flower extract, organic matricaria recutita (chamomile) flower extract, organic aspalathus linearis (rooibos) leaf extract, orbignya oleifera seed oil, vegetable glycerin, butyrospermum parkii, cocoglycerides, sesamum indicum (sesame) seed extract isoamyl laurate, cetearyl alcohol, avena sativa kernel oil, ethylhexyl olivate, sodium levulinate, sodium anisate, sodium behenoyl lactylate, olea europaea (olive) oil unsaponifiables, cetyl alcohol, citric acid, panthenol, argania spinosa (argan) kernel oil, citrus aurantium dulcis, phenethyl alcohol, alpha bisabolol, glycerophosphoinositol choline, d- alpha tocopherol acetate, potassium sorbate, glyceryl caprylate, allantoin, sodium phytate, anthemis nobilis flower oil, marrubium vulgare stem cells.
2. Pai Chamomile & Rosehip Calming Day Cream
Pai skin care products are made in the brand's very own research and development lab. They don't outsource the creation of their formulas or the production of their cosmetics.
This organic face moisturizer is formulated specifically for very sensitive skin, and skin that may be prone to redness. It is made with only natural ingredients and a 78% organic face moisturizer. Not bad, right? The cream contains lots of omegas. These help repair and regenerate skin cells.
The soothing agents Azulene and Matricin, found in German chamomile extract, are a crucial ingredient in Pai's calming day cream. They have a calming effect on irritated skin.
Rosehip CO2 extract contains lots of omegas as well as vitamin C and powerful anti-oxidants, all while being gentle enough to use on very sensitive skin.
Essential oils used are lavender and rose geranium.
Apricot kernel oil, jojoba oil and Shea butter are the base oils in this cream. Jojoba is especially renowned for its very particular molecular structure, which of all oils, waxes and butters is closest to that of our own sebum. This moisturizer for sensitive skin pairs nicely with the Camellia & Rose Cleanser and the Echium & Argan Gentle Eye Cream.
3. Herbal facial oil for sensitive skin by Annmarie Gianni
If something unscented is more up your alley, Annmarie Gianni skin care has got you covered. The unscented herbal facial oil is an extra gentle organic face moisturizer that is as natural as they come. It is completely free of essential oils, because natural ingredients can also be responsible for a allergic reaction (not only synthetic ones). Just because something is natural or plant-based doesn't mean everyone's skin will automatically be happy with it. Going light on the essential oils does significantly increase the chances of a moisturizer being suitable for even the most sensitive skin.
This organic face moisturizer by Annmarie Gianni is made with healing herbs that are organic or wild harvested.
Camellia seed oil, Rosehip seed oil, Sacha inchi oil and squalene are the key ingredients.
The infused oil is made with lavender, calendula and life everlasting flowers.
It also contains evening primrose, cranberry and pomegranate seed oil.
Unscented Herbal Facial Oil's Ingredients
INCI: Grapeseed Oil, camellia seed oil, rosehip seed oil, herb infused oil (fractionated coconut oil, *lavender flowers, *calendula flowers, *life everlasting flowers), *evening primrose oil, *squalane [plant sugar derived], *perilla oil, *pomegranate seed oil, *sacha inchi oil, cranberry seed oil, CO2 extracts of sea buckthorn berry and *rosemary.
*Organically grown or wildcrafted
Not Mutually Exclusive: an Anti-Aging Moisturizer for Sensitive Skin
If you are looking for an organic face moisturizer for very sensitive skin that also helps fight and prevent signs of aging, there's another one in the Pai range that could be a good fit.
The Echium & Macadamia Replenishing Day Cream is not only formulated with very dry sensitive skin in mind, but also as an anti-aging face cream.
It contains essential oils of rose Otto and rose geranium. These are some of the best anti-wrinkle and anti-aging essential oils.
This moisturizer relies on Echium extract, which is the richest known source of some very unique forms of omega 3 and 6.
To top it off, the presence of macadamia nut oil, borage oil and a few other vegetable oils makes this organic face moisturizer a great choice to fight and decrease wrinkles and fine lines, even for the most sensitive skin.