Soy Massage Candle Recipes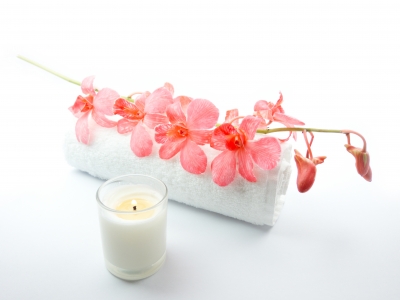 Prepare for a cosy evening with these soy massage candle recipes! (Make 'em the previous day, so they get time to harden.)
Soy wax candles can be used for massage as well as scenting the room. You don't need too many different ingredients to make an aromatherapy massage candle yourself.
Soy wax, a carrier oil, some shea butter and one or two of your preferred essential oils plus some candle wick and a glass jar are the essentials.
To create an even more luxurious massage candle, just play around with the different ingredients and work with two different kinds of oils and butters in the same recipe, always respecting the initial wax – oil – butter ratio.
Find two massage candle recipes below and once you've got the trick, have fun with experimenting to create new recipes!
Aromatherapy massage candle recipe nr.1
Ingredients
Ecosoya soy wax: 2.7 oz
Shea butter: 1 teaspoon
Avocado oil: 2 teaspoons
Your choice of essential oils, between 20 drops for a light scent and 60 drops for a stronger scent.
Tips on where to get these ingredients can be found at the bottom of this page.
Steps
Prepare your working space and the jar with the candle wick.
There are two ways of inserting the wick in the candle. Some like to fix the wick with a drop of melted wax to the bottom of the jar, other say you can add the wick after pouring the wax. I prefer to have the wick in place steadily before pouring the wax mixture, as it is also best to pour the mixture when it is not entirely runny anymore, which gives you very little time to get the wick in place properly after the wax has been poured.
In a double boiler (au bain marie) melt the right amount of soy wax and avocado oil together.
Mix well. Shea butter doesn't like heat – it tends to get grainy when heated, which is why you add it to the warm wax and oil after taking the mixture out of the double boiler.
Take off the heat, add the Shea butter and stir gently to make sure all the ingredients are blended.
Let the mixture cool a few minutes while stirring, and have your essential oil(s) ready. The reason the essential oils are added right before pouring, is because they are heat-sensitive and evaporate if the wax is still too hot.
Add the essential oils and allow another one or two minutes to blend the whole mixture, before pouring it into the glass jar.
Let your candle sit overnight and enjoy the scent of your creation in the morning!
Aromatherapy massage candle recipe nr.2
Ingredients
Ecosoya soy wax: 0.6 oz
Shea butter: 0.7 oz
Avocado oil: 0.5 oz (or 3 teaspoons)
Cocoa butter: 0.6 oz
Your choice of essential oils, between 20 drops for a light scent and 60 drops for a stronger scent.
Tips on where to get these ingredients can be found at the bottom of this page.
Steps
Same as for the recipe above.
Can I use these massage candle recipes as scented candles?
The amount of essential oil it takes to scent a room is higher than the amount you need for massage. The amount of essential oils it takes to scent a room, may be a too strong for the body. That's why I make my massage candles specifically for that purpose. If you were to add loads of essential oil, I guess it would become a scented candle, but that would make them a bit too strong for skin application.
On the other hand, for a scented candle you don't need to add butters and oils. These ingredients are in the massage candle recipes for their skin softening and nourishing properties.
If you wish to create a candle to scent a room, adding essential oils to pure soy wax would be the way to go. A more efficient way of spreading fragrances in the house is to use an essential oil burner. The oil burner allows you to vary depending on the occasion and experiment with all sorts of different essential oil combinations, by using just a few drops.
Which of these massage candle recipes to choose?
For an aromatherapy massage candle, both recipes work well.
Massage candle recipes with the ratios of example number 1 will take about 45-60 minutes of burning to be ready for use, because of the larger amount of ingredients that are solid at room temperature. If you want to be able to use the candle for massage, but not every time and also appreciate it for it's flame and scent, go with recipe number 1. It keeps burning with a solid flame, makes a great candle as is and also forms a nice protecting layer on the skin, with good glide.
Massage candle recipes like number 2 will be ready for use after 10-15 minutes of lighting the candle (when poured into a small 2 oz. jar). If you plan on using the candle especially for massage and like to do so soon after lighting, recipe number 2 is a good choice. The addition of cocoa butter, more shea butter and oil makes a delicious massage blend that penetrates and nourishes the skin, as well as giving a nice glide.
TIP: If you use cocoa butter in massage candle recipes, the scent will remain present. Make sure the smell of cocoa butter doesn't conflict with your essential oils. Some work very well together though – the natural cocoa butter odor blends nicely with sweeter scents like vanilla. De-odorised cocoa butter is available, if you wish to avoid the smell.
Where to find the best soy massage candle ingredients?
Mountain Rose Herbs is a great place to shop for organic skin care ingredients. They have a large selection of the best quality certified organic butters, oils and essential oils. For the soy wax, you could check Amazon
.
*Image credit: Master isolated images (white candle), Dusky (pink candles) / Freedigitalphotos.net
Read more:
Basic Directions The place to start, when you're making soy massage candle recipes for the first time.
Fall & Winter Soy Massage Candle Recipes :: Delicious blends reminding of autumn spices, which will warm you up when it's cold outside!
Trouble-Shooting Tips & Tricks for the most common soy-candle-making-issues. You know, those little things you wish you knew before starting, instead of… well… learning'em the hard way.
Always wanted to try some truly natural organic skincare?
The sample pack from Annmarie Gianni organic skin care is a great place to start.
All products are full of wild-crafted & organic ingredients.
Here's the scoop: 
Choose the sample pack best suited to your skin type for $10.
It comes with a coupon for $10 off any full-size product. If you fall in love with one or more of the little bottles, the samples are basically free.
Just in case that's not enough organic goodness crammed into one little sample pack already - did I mention the free worldwide shipping? [Read more.]