Finding the best natural moisturizer for acne-prone skin isn't easy. The perfect one should take care of spots and blemishes efficiently, but also hydrate and moisturize the skin without making it super shiny. That's not all, though. Preferably it also has to be made with natural – ideally even organic – ingredients.
The shelves in most stores are filled with acne products that aren't at all natural, let alone organic. Many main-stream moisturizers for acne-prone skin make being oil-free their main selling point.
That sounds like music to your ears, when your skin is shiny and producing more than enough oil by itself. Being oil-free may sound good – in fact, it may sound like a perfect approach for oily or acne-prone skin. But there is a catch.
When you constantly strip away the skin's oil, it responds by producing even more.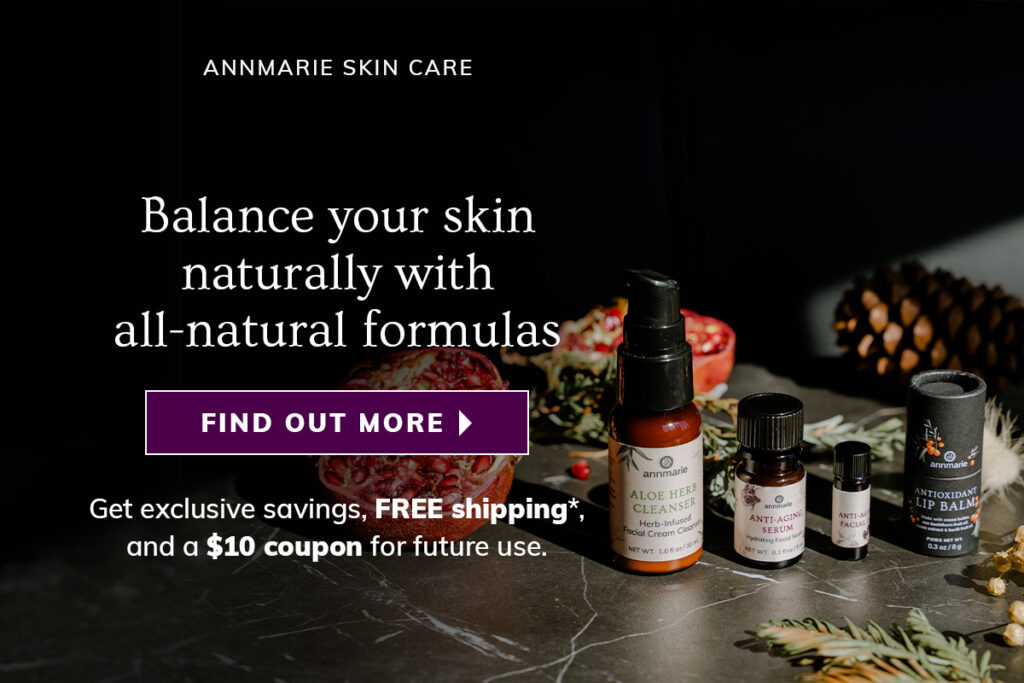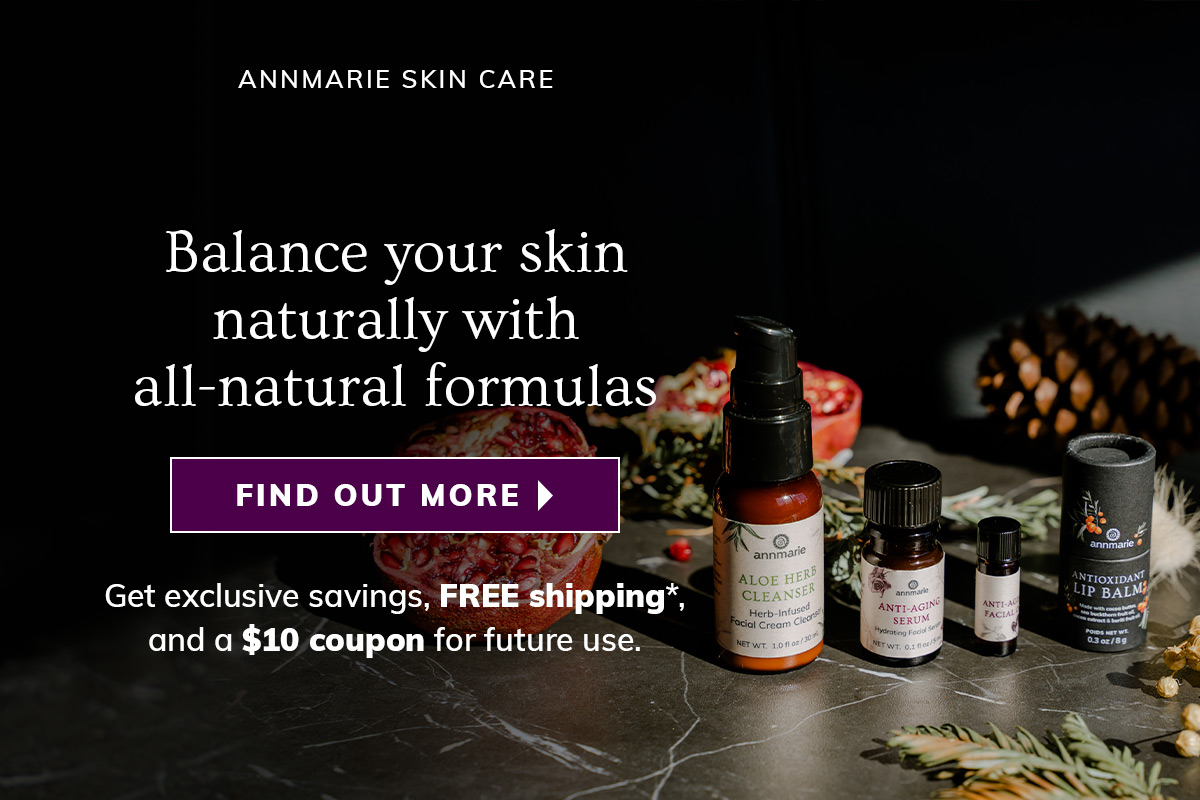 Table of Contents
Let that sink in for a second: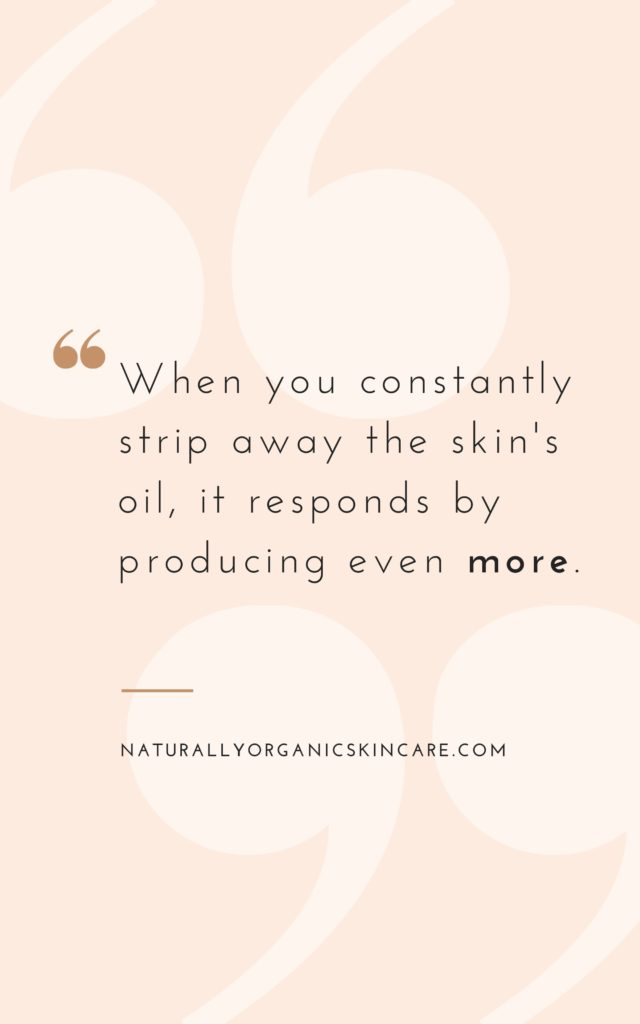 With oily skin, perhaps prone to acne flare-ups, the last thing you want to do is stimulate your skin to produce even more sebum.
When using an aggressive and drying face care routine, that's precisely what happens. Sebum is the skin's own oil, keeping skin supple and glowing. Overproduction of sebum causes the skin to be shiny with enlarged pores. The most commonly used facial cleansers for oily or acne-prone skin contain harsh ingredients. They remove most, if not all, of the skin's natural oils.
Of course, you don't want to be walking around with a shiny face – and that's why getting rid of all possible oil seems like a good idea.
There's just one issue with that approach.
If the skin gets de-greased drastically and (twice) daily, it will keep producing more and more oil to make up for the stripping. That seems to be necessary (from the skin's point of view) – because it ends up with zero oil at least once or twice a day!
Add to this routine a drying so-called "oil-free" moisturizer, made of harsh chemicals and synthetics, and your face will bin chronic damage control mode. Out of pure despair, it produces even more sebum to protect itself. Redness, flakiness and itching are possible effects as well.
Complete Face Care in 3 Steps
We all know the classic three steps of a complete face care ritual, right?
1. Clean
Cleansing. The one thing you're never supposed to skip, no matter how late it is and how tired you are!
It is crucial to go to sleep with a clean face, to allow for the skin to "breathe", heal, and regenerate overnight. There is a separate page going into natural and organic facial cleansers, specifically targeting oily and acne-prone skin. The best thing a cleanser can do for oily skin, whether with or without blemishes, is to cleanse gently. This may feel counter-intuitive, but you actually should not radically (and twice daily) strip away all of the skin's own natural oils. >> Read more about the best natural and organic face cleansers for oily and acne-prone skin.
2. Tone
Toning. Step two of a proper skin care routine: wiping away the last residue after cleansing, and restoring some of the skin's balance with a toner. Some great toners for oily skin, with or without acne are:
Did you know you can also make your own toner? It can be as simple as brewing a nice herbal tea. Such a simple toner wouldn't have the bells and whistles of the professionally formulated ones, but it's a nice low-budget alternative. Please note that it would need to be kept in the fridge to prevent spoiling, and you'd have to brew a fresh batch every few days. (You don't want to be adding more bacteria to your face!) Chamomile has anti-inflammatory properties, as well as lavender, while both are soothing to the skin. Rosemary, thyme, and oregano are also great choices – these Mediterranean herbs have wonderful antibacterial properties.
Chamomile is one of the ingredients in Just Natural's clear skin facial toner for acne-prone skin. It also contains aloe vera, Damascus rose, orange blossom, and a blend of the best essential oils to treat acne.
Annmarie Gianni's rosemary toning mist contains aloe vera as well. Also thyme, which is a powerful anti-infectious herb, as well as white willow bark. Did you know before the "invention" of aspirin, people used willow bark to treat fever and infections? Later when scientists were able to identify the molecule responsible for its properties, aspirin was created as a synthetic copy of the substance in willow bark.
3. Moisturize
Alright – step number and the one you're here for: moisturizing! With a natural moisturizer, free from chemical junk, synthetics, petrochemicals and the like. Let's bring in the big guns to calm, nurture and heal the skin.
Nurture & heal with a natural moisturizer for acne-prone skin
The first ground-breaking idea here is to – once again – not be afraid of oil.
As you've probably seen coming by now, I am firmly stating that switching to a natural moisturizer for acne-prone skin is a great idea – and also that it doesn't need to be oil-free!
On the contrary, the right oils (in combination with essential oils for acne) can help restore the skin's balance.
Natural vs. Organic Moisturizers
A natural moisturizer can provide the antibacterial and anti-inflammatory elements needed to take care of blemishes just a well (even better!) as a 'regular' one. It's merely a matter of finding the right fit for your skin – a moisturizer that is nutritious enough and contains a combination of healing natural ingredients tailored to oily skin.
An organic moisturizer is typically made with a lot of natural ingredients. In addition to that, a certain number of the botanical ingredients used come from organic agriculture. They are not contaminated with any pesticide residue (good for us) and neither was the soil these plants grew in (good for the environment).
Any skin care product can be one or the other, or both. The term 'natural' is used and abused widely. Natural does not mean organic per se. However, most organic products are on the natural side of the spectrum. Organic skincare products with lots of synthetic ingredients are rare.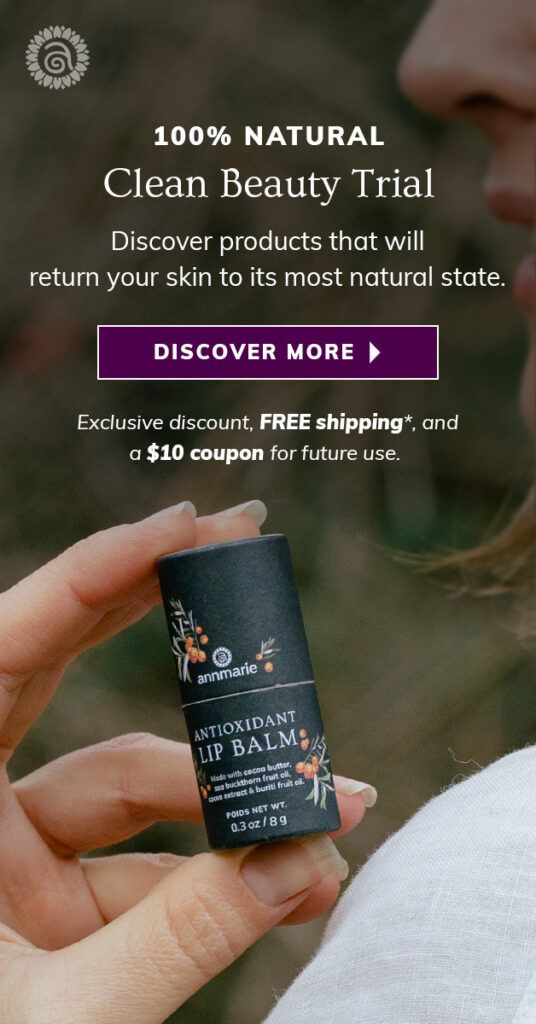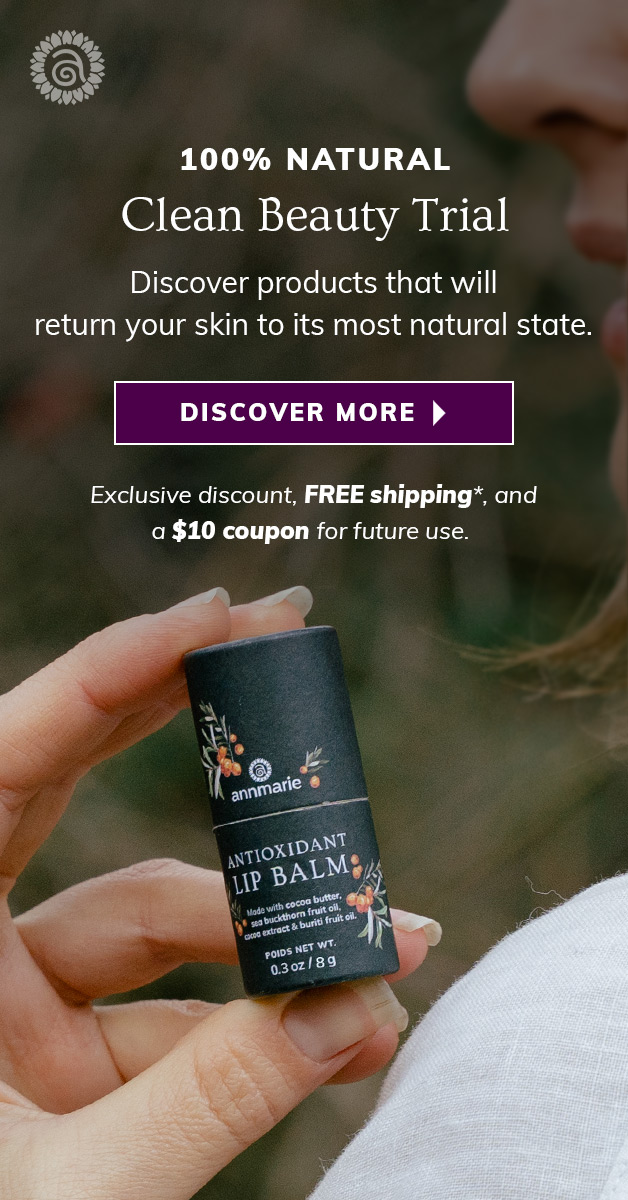 The Benefit of Natural Oils
So when the skin's sebum is continuously stripped away, it tries to compensate for that loss by producing even more.
From the use of natural, organic vegetable oils to moisturize the skin, it will get the 'message' that there's plenty of oil to go around. Producing less sebum, as a result, decreasing the skin's oiliness.
For ages, humans have been using oils to pamper their body and take care of all sorts of skin issues. Oils can heal, both essential and vegetable oils are used in natural and organic moisturizers. Does it surprise you that oil may be one of the best allies to help your skin clear up?
A widely spread assumption is that oil clogs pores. That is absolutely not true. On the contrary, oil dissolves oil and oil can even be used to clean the skin.
Two things are interesting to point out here: the difference between mineral oil and vegetable oils, and the different properties of vegetable oils compared to each other.
Mineral oil
Mineral oil is not what most people mean when they wonder whether something is "natural". It is made of petroleum and is present in most face care products these days.
You can find it on labels in various forms, under many different names. Petrolatum, paraffin, paraffinum liquidum, propylene glycol, or just plain vaseline are some examples.
Mineral oil is known for 'coating' the skin, blocking all passage of air and nutrients.
Skin care experts who are pro mineral oil say that this coating is actually a good thing, sometimes, because it doesn't let moisture escape either.
However, mineral oil has no therapeutic value at all (except for sealing in moisture) when vegetable oil lets the skin breathe, all while being nourishing, moisturizing and healing. Botanical oils have healing properties, which makes them great assets in helping to improve a wide range of skin conditions, including oily skin and acne.
Vegetable oils
Different vegetable oils have different grades of 'heaviness'. Some are more adapted to oily and acne-prone skin, whereas others are so densely packed with nutrients, that they may be on the heavy side. Those are better for dry skin and cold winters.
Organic jojoba oil is a great choice for oily and acne-prone skin. So are organic hemp oil, grape seed oil, and sweet almond oil. Kukui oil is wonderful for skin problems and hazelnut oil is known to be astringent (decreasing pore size).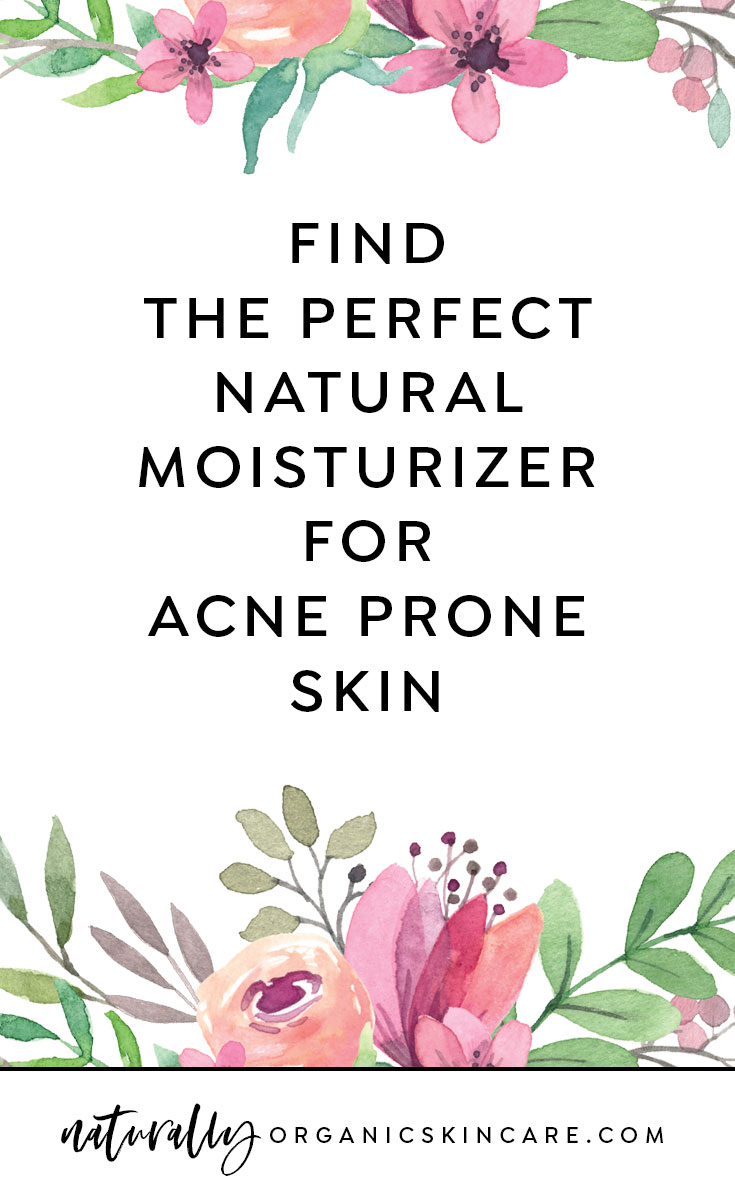 Best natural moisturizer for acne-prone skin, the ultimate guide + where to get samples!
The goal here is to have at least one natural moisturizer for acne-prone skin in this selection that is a perfect match. For each one, you'll see:
a quick introduction
the active ingredients at a glance
the full ingredient list
tips on where to find it
Some natural, organic skincare brands offer samples, which is awesome.
1. Herbal Facial Oil by Annmarie Gianni
The Herbal Facial Oil for oily and acne-prone skin by Annmarie Gianni is an organic/wild-harvested, natural moisturizer for acne-prone skin made with 30 different vegetable oils, herbs, and botanical extracts, all of which are from organic agriculture or wild harvested.
Hopefully, by now the concept of applying an oil to your (already oily) face no longer sounds like the strangest idea. As explained above – it could potentially show itself to be the very best thing that has happened to your face in a long time.
The many healing plant extracts it contains play a key role in reducing inflammation and fighting infection. My own experience with this facial oil is that it makes imperfections noticeably less red and swollen overnight.
We all have different skin, with different needs, but this organic moisturizer can make a difference if you have oily skin, with or without blemishes. Annmarie Gianni's organic skincare line is alcohol-free.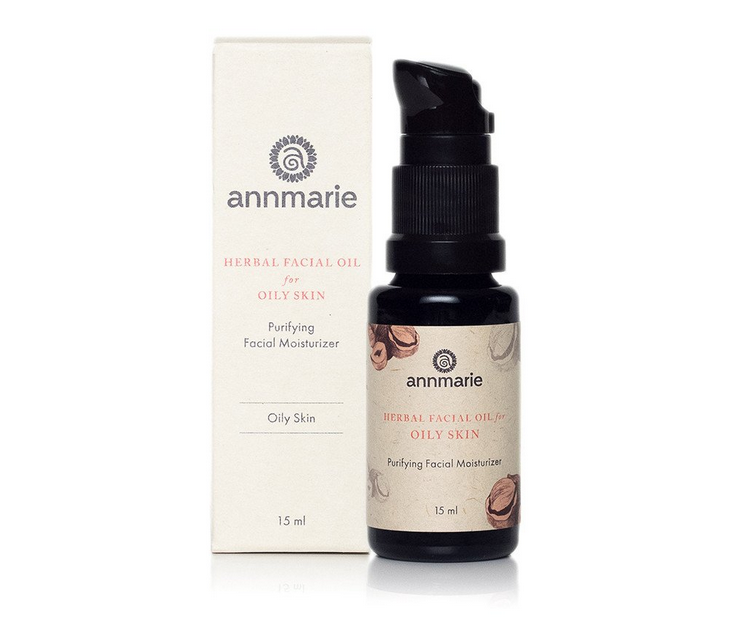 Active ingredients
echinacea
neem
basil
hazelnut oil
many other healing herbs (see below)
Full ingredient list
Love, herb oil (grapeseed oil, white willow bark, rosemary, barberry bark, neem, green tea, basil, bitter orange peel, echinacea, hibiscus flower, goji berry, milk thistle seed, licorice root), fractionated coconut oil, hazelnut oil, passion fruit oil, carrot seed oil, pettigrain oil, rice bran oil, vitamin E tocopherols, buriti fruit oil, red raspberry seed oil, cranberry seed oil, rosehip extract, rosehip seed extract, carrot extract, clementine oil, litsea cubeba oil, frangipani oil, rosemary oleoresin. Organic or Wildcrafted.
Where to find it?
Good news – you can order a sample of this one (with free worldwide shipping) and figure out for yourself whether this oil/organic moisturizer is a match for your skin.
2. Juice Beauty (SPF 30) Oil-free Moisturizer
Juice Beauty's oil-free moisturizer seems like a great natural moisturizer for acne-prone skin, except… It doesn't have very good reviews from users. Taking five different (recent) customers' word for it, the formula has changed from what it used to be "before" (whenever that was).
However, Juice Beauty also makes an oil-free moisturizer with SPF 30. And this one has stellar reviews, as well as many more reviews than the one without SPF, for that matter.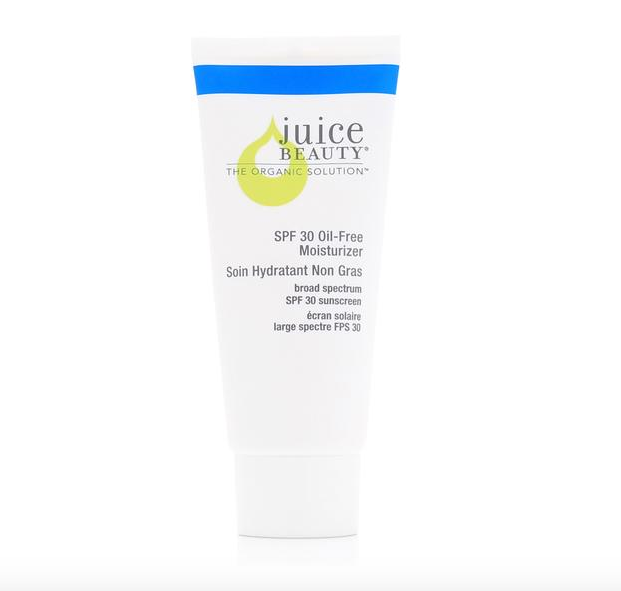 Key Ingredients
Non-nano zinc oxide
Aloe vera
Nutrient-rich sea algae
Organic grape and pomegranate
Vitamins
Anti-oxidants
Full Ingredients
Active Ingredient: Zinc Oxide 20%
Inactive Ingredients: Aloe barbadensis (organic aloe juicejus d'aloès bio), capryliccapric triglyceride†, pyrus malus (organic apple juicejus de pomme bio), vitis vinifera (organic white grape juicejus de raisin blanc bio), sorbitan stearate, polyglyceryl-10 laurate, magnesium sulfate, tocopherol (Vitamin Evitamine E), magnesium ascorbyl phosphate (Vitamin Cvitamine C), sodium hyaluronate†, punica granatum (organic pomegranate juice extractextrait de jus de grenade bio), algae extract, cucumis sativus extract (cucumber extractextrait de concombre), panthenol, citrus limonum bark, iron oxides, phenethyl alcohol, ethylhexylglycerin†, citrus reticulata (mandarin oilhuile de mandarine), citrus aurantium (petitgrain oilhuile de petit grain).  • = Certified organic ingredient  † = plant derived / origine végétale
3. Acure Incredibly Clear Mattifying Moisturizer
With a fair amount of organic ingredients, this natural moisturizer for acne-prone skin won't break the bank. Whether your skin is on the younger or slightly more mature end of the spectrum, if it needs moisturizing all while being subject to breakouts, the Acure incredibly clear mattifying moisturizer could be a good choice. Acure is a great organic skincare brand, with strong ethics. Affordable and widely available, too!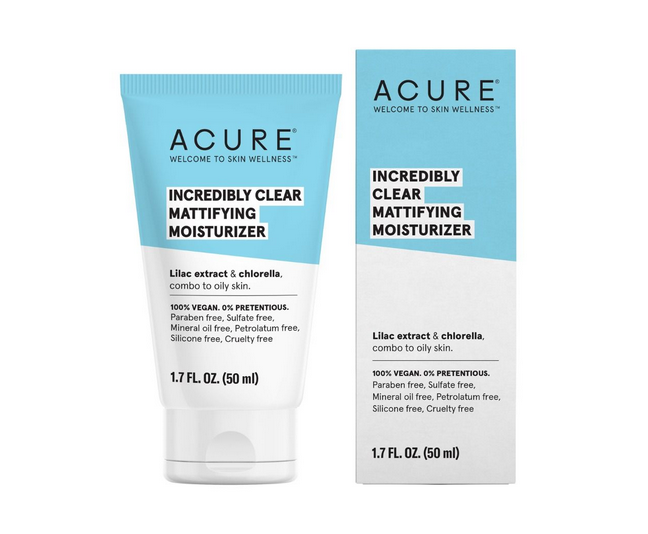 This moisturizer is around $14 (with a special coupon) on Amazon, a hard-to-beat price tag. Check out Acure's incredibly clear range on Amazon.
Key Ingredients
Lilac extract
Chlorella
Calendula
Chamomile
Fruit extracts of acai, blackberry, rosehips and pomegranate
CoQ10
Full Ingredients
Ingredients:Watereau, aloe barbadensis (aloe vera) leaf juice, euterpe oleracea (acai) fruit extract, rubus fruticosus (blackberry) fruit extract, rosa canina (rosehips) fruit extract, punica granatum (pomegranate) fruit extract, calendula officinalis (calendula) flower extract, matricaria recutita (chamomile) flower extract, aspalathus linearis (rooibos) leaf extract, glyceryl stearate citrate, cetearyl alcohol, glyceryl caprylate, cathamus tinctorius (safflower) seed oil, theobroma cacao (cocoa) seed butter, cocoglycerides, glycerin, cetearyl alcohol, helianthus annuus (sunflower) seed oil, sodium levulinate, potassium sorbate, glyceryl laurate, oenothera biennis (evening primrose) oil, tocopherol acetate, chlorella vulgaris extract, argania spinosa (argan) kernel oil*, ubiquinone (CoQ10) salvia officinalis leaf extract, lavandula officinalis (lavender) flower oil, mentha spicata (spearmint) leaf extract, syringa vulgaris (lilac) leaf cell culture extract. /  *Organic ingredient
4. Kypris Clearing Serum
Kypris makes holistic skincare that is exclusively natural or naturally derived and made with wild-harvested, sustainably grown and organic botanicals.
Their Clearing Serum can be used with any other moisturizer Kypris, of course, recommends using it in conjunction with one of their own moisturizers.
In general, I'm not all that dogmatic about "synchronizing" skincare of one brand only. While there is definitely some sense to it, because of the increased effectiveness of similar or attuned ingredients, it isn't illegal to mix-and-match. 😉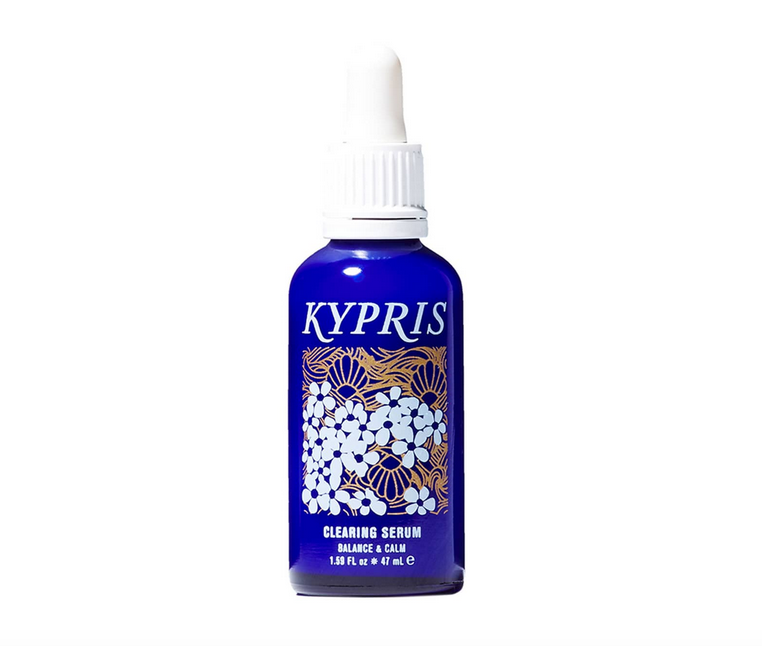 Active ingredients
lilac leaf cell culture extract
green tea leaf extract
apple fruit extract
willow bark extract
essential oils of tea tree & lavender
Full ingredients
Water/Aqua, Chenopodium Quinoa Seed Oil, Glycerin, Zinc PCA, Syringa Vulgaris (Lilac) Leaf Cell Culture Extract, Camellia Oleifera (Green Tea) Leaf Extract, Sarcosine, Helianthus Annuus (Sunflower) Seed Oil, Phospholipids, Larrea Tridentata (Chaparral) Extract, Asiaticoside, Pyrus Malus (Apple) Fruit Extract, Salix Alba (Willow) Bark Extract, Citrus Aurantium Dulcis (Orange) Fruit Extract, Saccharum Officinarum (Sugarcane) Extract, Phragmites Communis Extract, Poria Cocos Extract, Citrus Limon (Lemon) Fruit Extract, Montmorillonite, Sclerotium Gum, Tocopherol, Allantoin, Melaleuca Alternifolia (Tea Tree) Leaf Oil, Lavandula Angustifolia (Lavender) Oil,  Phytosterols, Ascorbyl Palmitate, Aloe Barbadensis Leaf Juice, Caprylic/Capric Triglyceride, Lecithin, Squalane,  Butyrospermum Parkii (Shea) Butter, Ceramide NP, Sodium Levulinate, Leuconostoc/Radish Root Ferment Filtrate, Maltodextrin, Sodium Anisate, Limonene, Linalool.
Kypris Clearing Serum in a Nutshell
Not really a moisturizer, but a great add-on for spots and blemish-prone skin.
Loaded with natural ingredients that target the acne and are known to heal infection:
Green tea, lavender, zinc, fruit-derived AHA, and lilac stem cells.
Reduces redness, soothes irritation and balances oil production.
5. Just Nutritive Clear Facial Day Cream
Just Nutritive Acne Clear Facial Day Cream is another option, especially if you prefer a cream over facial oil.
It definitely deserves a mention as one of the best natural moisturizers for oily skin with or without acne. It's one of the most natural ones you'll find – although the ingredients are not organic.
This one you can't sample, unfortunately.
In the evening it can be paired up with the Natural Night Acne Treatment, which comes in the form of an oil. And if you really prefer creams over oils, you could, of course, use Just Nutritive Acne Facial Day Cream for day and night. The Just Nutritive natural moisturizer for acne-prone skin is alcohol-free as well.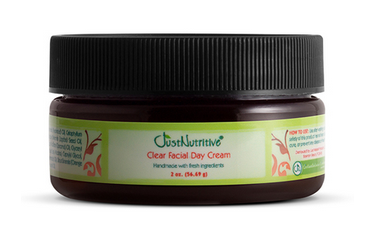 Active ingredients
aloe vera
neem
oils of kukui, jojoba & hazelnut
essential oils of tea tree, lavender, basil and rose geranium
Full ingredient list
Aloe Barbadensis (Aloe Vera Hydrosol), Carapa Guianensis (Andiroba) Oil, Calophyllum Inophyllum (Foraha) Oil, Aleurites Moluccana (Kukui Nut) Oil, Simmondsia Chinensis (Jojoba) Seed Oil, Butyrospermum Parkii (Shea Butter), Azadirachta Indica (Neem) Oil, Cocos Nucifera (Coconut) Oil, Glyceryl Stearate, Glyceryl Caprylate, Sodium Lauroyl Lactylate, Allantoin, Vegetable Cetyl Alcohol, Caprylyl Glycol, Glycerin, Melaleuca Alternifolia (Tea Tree) Leaf Oil, Lavandula Angustifolia (Lavender) Oil, Citrus Sinensis (Orange Peel) Oil, Ocimum Basilicum (Basil) Oil, Pelargonium Graveolens (Rose Geranium) Oil.
Just Nutritive Clear Facial Day Cream in a Nutshell
Thicker consistency.
Made with essential oils of tea tree, lavender, geranium rose and basil.
Contains no alcohol and no water, only aloe vera juice.
No international shipping available, US only.
Unfortunately, Just Nutritive does not offer samples or trial sizes.
6. Tata Harper Clarifying Moisturizer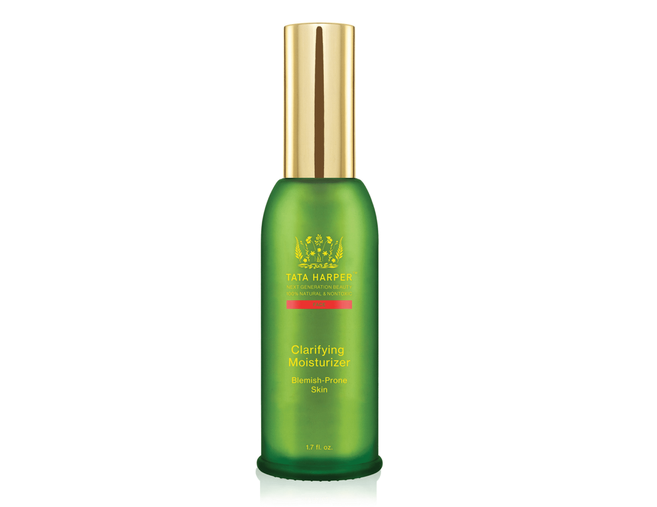 Active ingredients
Sage
Sandalwood
Zinc PCA
Copper PCA
Arnica montana
Calendula officinalis
Willow bark
Narcissus tazetta (Daffodil)
Full ingredient list
ALOE BARBADENSIS LEAF JUICE*, AQUA/WATER/EAU, SALVIA OFFICINALIS (SAGE) FLOWER/LEAF/STEM EXTRACT*, GLYCERIN, SANTALUM SPICATUM (SANDALWOOD) SEED OIL, PROPANEDIOL, PYRUS MALUS (APPLE) SEED OIL, LACTOBACILLUS FERMENT, SQUALANE, POLYGLYCERYL-2 STEARATE, GLYCERYL STEARATE, LACTOBACILLUS/ARUNDINARIA GIGANTEA FERMENT FILTRATE, OENOTHERA BIENNIS (EVENING PRIMROSE) OIL*, LEUCONOSTOC FERMENT FILTRATE, HIPPOPHAE RHAMNOIDES (SEA BUCKTHORN) OIL*, ALPHA-GLUCAN OLIGOSACCHARIDE, HYDROLYZED AVOCADO PROTEIN, DICTYOPTERIS MEMBRANACEA (SEA FERN) EXTRACT, ZINC PCA, COPPER PCA, HYALURONIC ACID, SODIUM HYALURONATE, ARNICA MONTANA (ARNICA) EXTRACT*, BORAGO OFFICINALIS (BORAGE) LEAF EXTRACT*, MEDICAGO SATIVA (ALFALFA) EXTRACT*, SPIRAEA ULMARIA FLOWER EXTRACT*, CALENDULA OFFICINALIS (CALENDULA) FLOWER EXTRACT*, NARCISSUS TAZETTA (DAFFODIL) BULB EXTRACT*, SAMBUCUS NIGRA FRUIT EXTRACT, SERENOA SERRULATA FRUIT EXTRACT, OLEA EUROPAEA (OLIVE) OIL*, CETEARYL OLIVATE, SALIX ALBA (WILLOW) BARK EXTRACT, STEARYL ALCOHOL, LENTINUS EDODES EXTRACT, LYSOLECITHIN, SCLEROTIUM GUM, TASMANNIA LANCEOLATA FRUIT/LEAF EXTRACT, TREMELLA FUCIFORMIS (MUSHROOM) EXTRACT, LEUCONOSTOC/RADISH ROOT FERMENT FILTRATE, SORBITAN OLIVATE, XANTHAN GUM, PULLULAN, MALTODEXTRIN, SILICA, AROMA**, BENZYL ALCOHOL, BENZYL BENZOATE,  CITRAL, CITRONELLOL, EUGENOL, GERANIOL, LIMONENE, LINALOOL *INGREDIENTS FROM ORGANIC FARMING / INGRÉDIENTS ISSUS DE L'AGRICULTURE BIOLOGIQUE ** CLINICAL GRADE ESSENTIAL OILS BLEND / MÉLANGE D'HUILES ESSENTIELLES DE QUALITÉ CLINIQUE
Where to find it?
Citrine Beauty Bar ($116)
7. UrbanVeda Purifying Day Cream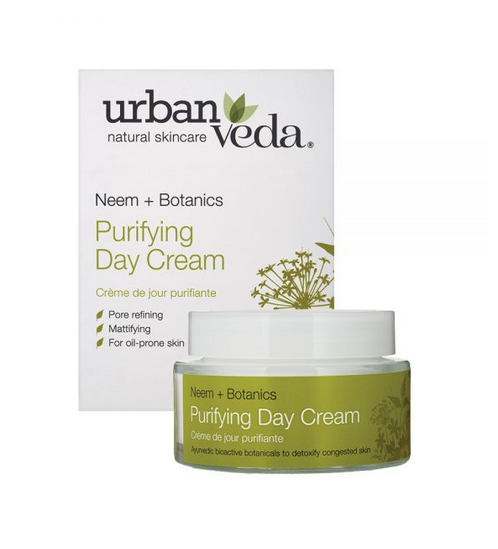 Active ingredients
Witch hazel
Tea tree
Mint & Spearmint
Orange
Ecalyptus
Neem
Full ingredient list
Aqua (Water), Alcohol Denat., Glycerin (vegetable source), Isopropyl Myristate, Hamamelis Virginiana (Witch Hazel) Extract, Glyceryl Stearate, Caprylic/Capric Triglyceride, Prunus Amygdalus Dulcis (Sweet Almond) Oil, Cetearyl Alcohol, PEG-100 Stearate, Melaleuca Alternifolia (Tea Tree) Leaf Oil, Mentha Arvensis (Field Mint) Leaf Oil, Citrus Aurantium Dulcis (Orange) Peel Oil, Eucalyptus Globulus Leaf Oil, Illicium Verum (Anise) Fruit/Seed Oil, Mentha Viridis (Spearmint) Leaf Oil, Melia Azadirachta (Neem) Seed Oil, Terminalia Arjuna Bark Extract, Azadirachta Indica (Neem) Leaf Extract, Picrasma Excelsa (Quassia Root) Wood Extract, Arctostaphylos Uva Ursi (Bearberry) Leaf Extract, Morus Nigra (Black Mulberry) Leaf Extract, Sodium Polyacrylate, Phenoxyethanol, Menthol, Xanthan Gum, Ethylhexylglycerin, 2-Bromo-2-Nitropropane-1,3-Diol, Potassium Sorbate, Ascorbic Acid, Sodium Benzoate, Limonene
Where to find it?
LoveLula (approx. $25)
Which one is the best natural moisturizer for acne-prone skin?
Each one of these is a great moisturizer and has the potential to be that perfect fit for your skin. They're not all organic, but very natural.
Tata Harper's Clarifying Moisturizer and Kypris' Clearing Serum are on the luxury end of the spectrum with a higher price tag.
Acure is the most affordable brand, followed closely by Urban Veda.
Just Nutritive is not organic, but also not overly expensive.
Editor's pick: Annmarie Herbal Facial Oil
The choice of botanical extracts makes this concoction very result-oriented. I found the effect on blemishes quite impressive. Read the full review here.
The option to sample this natural moisturizer for acne-prone skin in trial size is undeniably a big plus.
International shipping is available, but the shipping costs get rather steep when ordering from outside the US.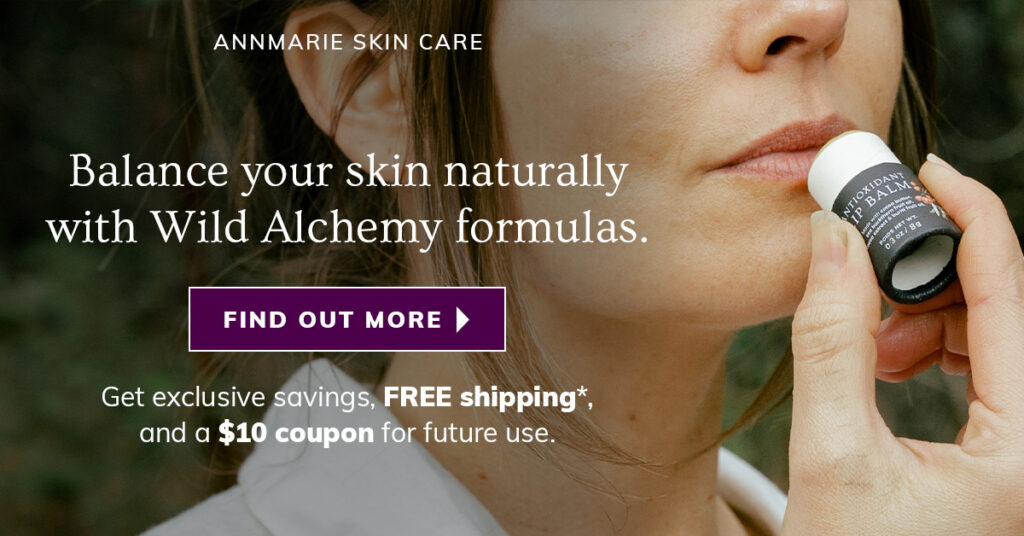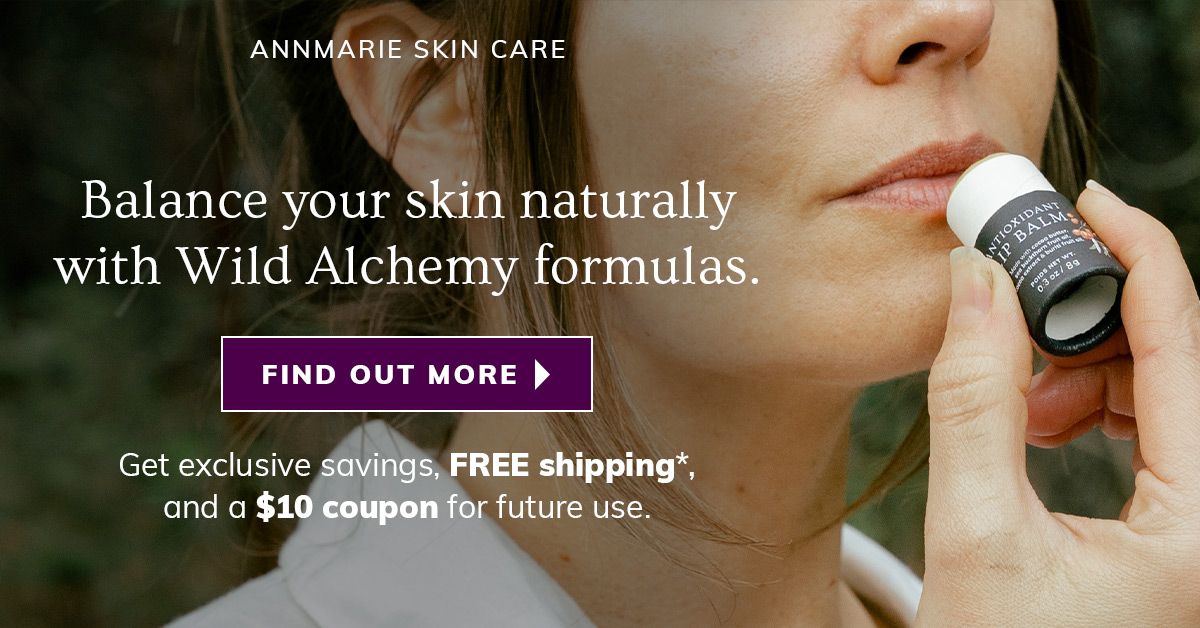 Natural Organic Skincare Samples
A big thumbs up for natural and organic beauty brands or suppliers that make it possible to try first!
Before getting a full size of Annmarie Gianni's facial oil for oily and acne-prone skin, you can get a sample pack for a small fee. Especially if you have never used a facial oil before, if you have oily skin or acne, this is this perfect opportunity to try a higher-end facial oil. Oh, and it comes with a coupon code for future purchases, which would make the trial set free.
Unfortunately, Just Natural skincare does not offer any samples at this moment.
The Kypris Clearing Serum can be sampled as well. Citrine Natural Beauty Bar has this really great system where you can sample a certain number of products. You basically get to build your own sample selection for a small fee.

Have you tried any of these? What's your favorite organic or natural moisturizer for acne-prone skin?