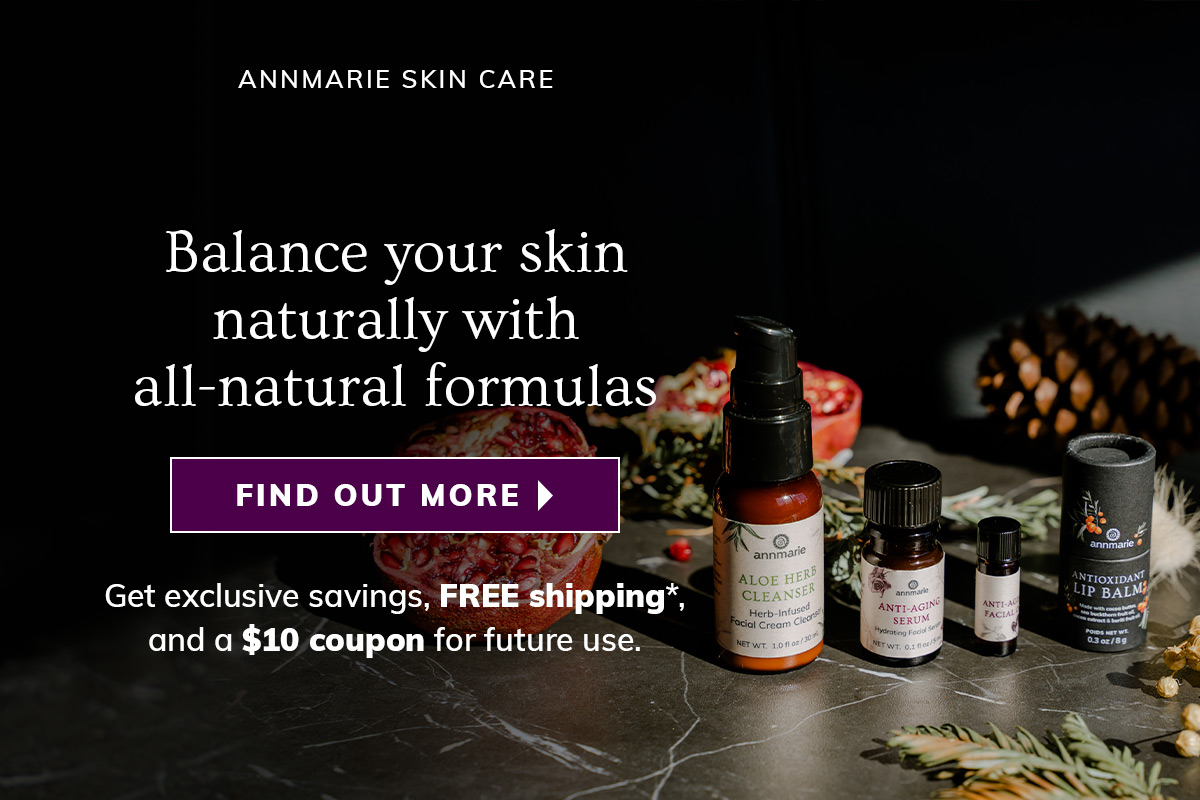 This compilation of my best organic shampoo reviews is not in order of importance. Different brands have good things going for them as well as different drawbacks. In giving my personal experience, the aim is to help you find out more about these natural and organic shampoo options, and decide which one could potentially be the best pick for you. If you're looking for something to wash your hair with that isn't filled with nasty chemicals (or pop in the shower for others to use) you've come to the right place.
Depending on whether you prefer shopping at a local store or online, whether you're in a rush or have time to wait for mail delivery, and on what type of hair adorns your pretty head, I'm hoping one (or more) of the idea's below may be a great fit!
Some shampoos included here are totally natural though not organic, while others contain a few organic extracts in a base of other, less natural ingredients. The thing is, there aren't enough completely natural and organic shampoos in the world to make a top 10 best organic shampoo reviews compilation. Not even a top 5. With that being said, I still wanted to gather more than just one or two options.
1. Best Organic Shampoo Reviews: WELEDA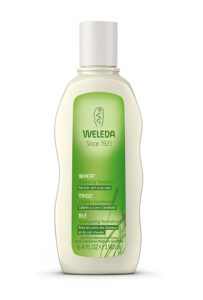 The iconic German brand Weleda is available all throughout the world. If not in local stores, then at least somewhere online. Weleda is a totally natural brand with a strong holistic view of the world. Weleda's ideas are based on anthroposophic values. If I'm not mistaken this means something like: "looking at our planet, with the humans, nature and other inhabitants, as all being interconnected and thus treating everyone and everything with respect."
Weleda has its own gardens and uses organic and wildharvested botanicals. They rely heavily on organic agriculture or horticulture.
Sounds almost like a fairy tale, doesn't it?
Unfortunately – in the real world – upon trying it out, I wasn't too happy with Weleda organic shampoo. More accurately: I was, but my hair wasn't.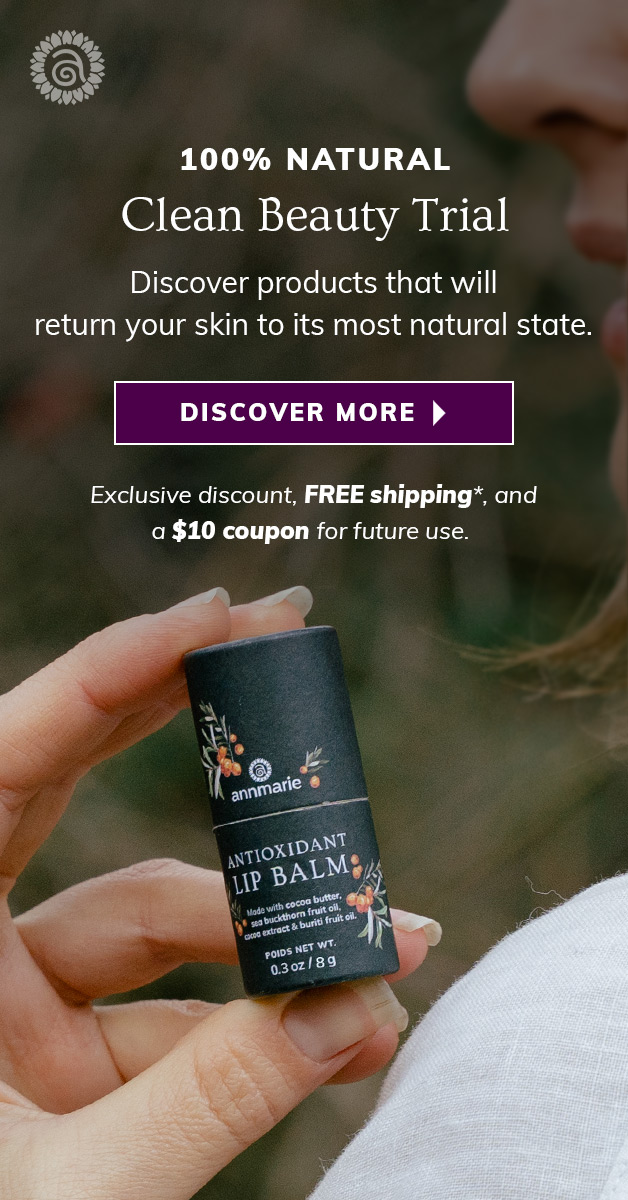 They make amazing products and I absolutely love their philosophy, but the shampoo was not a perfect fit for me. Some very natural and organic shampoos tend to make my hair frizzy on top, while leaving it a bit oily underneath. A horrible feeling, as you can imagine. Weleda shampoo isn't the worst I've ever tried, but it was leaning in that direction. Perhaps their formula errs on the gentle side and doesn't de-grease as much, where other natural and organic shampoos contain relatively more soap?
When you don't have as much hair as I do (an adult with a well-filled longer scalp) it would probably perform perfectly fine. For babies, children or short hair I'd still buy Weleda's organic shampoo, because I love and trust the brand.
Where to find Weleda Organic Shampoo (6.4 fl oz.): Lovelula (free worldwide shipping), Walmart, iHerb, Walgreens, Dermstore, Luckyvitamin, Vitacost or on Amazon (with free Prime shipping).
2. Best Organic Shampoo Reviews: JOHN MASTERS ORGANICS

John Masters makes amazing organic skin care products, but let's not forget that he was first and foremost about hair!
Over time, I tried quite a few John Masters products from both their hair care and skin care range. The ingredients are always very clean and natural. I've really come to trust this brand to make something amazing.
The one that absolutely needs to be included on the list of best organic shampoo reviews is John Masters Zinc and Sage Shampoo & Conditioner (8 fl oz.)
While not typically a big fan of the 2-in-1 concept, I was completely charmed by this lovely smelling natural, organic shampoo. It works great, feels nice and the smell is amazing.  The Zinc and Sage Shampoo & Conditioner is one of those 2-in-1 products, which can supposedly save us some time and effort. Perhaps also money, at least if you don't blow through the bottle twice as fast. 😉
I did not, by the way. This shampoo did its job (including the conditioning part) very well when using just a "normal" amount, so there was no need for me to use extra on the lengths of my hair.  [Read the full review here.]
Not into 2-in-1 products? John Masters has a whole range of other organic shampoos, and they are quite easy to come by too. Check your local organic store, and do take a second to compare the price to those online, if you're not in a rush… especially through Amazon, with Prime free shipping, it can be worthwhile.
John Masters Organic Shampoo is available through: Dermstore, Luckyvitamin, Walmart, Lovelula (with free worldwide shipping) and of course on Amazon.
3. Best Organic Shampoo Reviews: MIESSENCE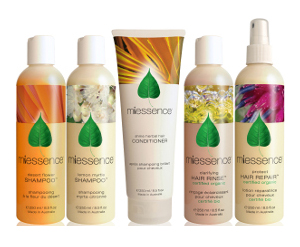 Miessence definitely ranks highly in my best organic shampoo reviews, even though I have a bit of a love-hate relationship with the brand. The Miessence shampoo is great though, both the Lemon Balm (8.5 fl oz.) and the Desert Flower Organic Shampoo (8.5 fl oz.). Their shampoo may even be one of their best creations.  [Read the full Miessence shampoo review here.]
My hair isn't exceptionally oily or dry. Because it is long, the ends can get a bit dryer. With long hair the roots will always be closer to needing a wash than the lengths. While Miessence Lemon Balm Shampoo is meant for normal to oily hair and their Desert Flower Shampoo for normal to dry hair, I was able to use both with equally awesome results. This could be because my hair is sort of "normal". It could also be due to the gentle natural ingredients, or to the fact that both formula's are very similar aside from a few different extracts.
So what's with the love-hate relationship with Miessence?
Well, I love Miessence as a company, because they really aim to make a difference. Non-toxic healthy products, made with tremendous consideration for the environment. They're actually carbon negative, meaning they make more improvements to the planet than they produce waste, which is huge!
On the other hand, Miessence likes to boast about their endeavors, to the point where they make it sound like they're the "first and only" right choice. That attitude can sometimes rub me the wrong way. Being certified organic as a company is very commendable, but there are also brands who deliberately choose to forgo the whole certification-thing due to the high price tag. Organic certification costs a lot of money. A good example is Annmarie Gianni skin care. At Annmarie Gianni they've decided to simply focus on making amazing natural (and organic!) products without buying into any certifications.
Anyway… back to Miessence.
Some of their items are great in value vs. price (mainly the hair care and skin care) – others are more expensive (the protein and superfood powders). If you find a few products you really like and want to keep using them for a while, it can be worthwhile to explore their repeat-delivery options with discounts of up to 40%.
4. Best Organic Shampoo Reviews: SANTE NATURKOSMETIK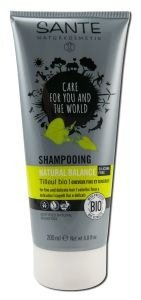 Another German brand (Germany is quite active in the natural care products department) that I thought I'd mention, because their Natural Balance Shampoo was very nice. An organic shampoo with only two of the ingredients being organic, but still – it's a good natural shampoo. [The full review is right here.]
This brand is almost impossible to get your hands on, but I've found a place with some Sante shampoos that seems to ship worldwide. The shipping costs are most reasonable. Naturkosmetik.biz also carries Weleda, some other less known natural brands, and what's more: Weleda mini's for sale! I haven't been able to find those outside of Europe until now and literally discovered this website five minutes ago, so pardon my enthusiasm.
Hmm… okay – scratch that (except for the Weleda mini's, of course). Right after discovering the website above, I finally located Shampoo Natural Balance Sante 6.8 oz (200 ml) on Amazon.
5. Best Organic Shampoo Reviews: JUST NATURAL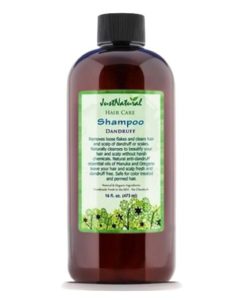 Okay, bad news first: Just Natural does not make organic shampoo.
Then why is Just Natural included in the list of best organic shampoo reviews?
Because I'm assuming that when you type in "best organic shampoo reviews", you're ideally looking for shampoos made with organically sourced ingredients. Those aren't always and necessarily the most natural ones. And aren't you also looking for the most natural shampoos, those free of toxins, sulfates, random synthetics and other chemicals? That's why Just Natural shampoo deserves to be listed.
Some brands are called "organic" because:
1) they do their best to include a certain amount of organically sourced ingredients in their products, even if that is just one, two, or three extracts in a long list of ingredients that aren't organic, and
2) their brand name was chosen to say so.
Of course, just because a brand goes by the name of something-something-organics, it doesn't mean every single ingredient they use is organic. The word "organic" in a brand name is nine times out of ten more of a political stance, the voicing of an ideal, if you wish.
Just Natural uses only the most natural ingredients in their shampoos (and skin care). When comparing to the formulations of many so-called organic brands, you may see one or more organic ingredient(s) blended with others that are overall less natural than those used by Just Natural. Just Natural shampoos – despite not being organic – may actually be more natural than the shampoos made by some organic brands.
Just Natural has a huge range of hair care products and shampoos. And I mean really huge. If you have a specific issue that you'd like a natural shampoo for, they probably have it. From the menu, in alphabetical order: Color treated hair, dandruff, dry hair, extreme dry hair, frizz hair, gray hair, grow new hair, hair loss, itchy scalp, kid's hair, men's hair, natural black hair, normal hair, oily hair, pre-relaxed hair, psoriasis, relaxed hair, scalp problems, styling hair, thicker hair, thin hair, transitioning to natural and African American hair.
It looks like they've recently changed names from Just Natural to Just Nutritive. This is the old website, and this is their new one.
6. Best Organic Shampoo Reviews: AVALON ORGANICS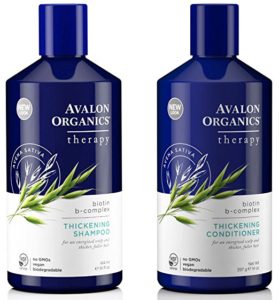 Avalon Organics has a great website, including full ingredient lists for each product. It is clearly specified which of the ingredients used are organic.
For lack of personal experience with their organic shampoo, let me grab a few quotes from what other people are saying about Avalon:
"Fantastic product! Especially the shampoo. It really does make a difference in the volume and thickness of your hair. The conditioner can cause a little build up sometimes, so it's good to use the shampoo with a different conditioner from time to time."
"The shampoo is very watery but lathers nicely. The conditioner is very, very thick and moisturizes without weighing my hair down. Overall, great product."
"I'm glad other people are happy with it, but this one just didn't work for me. Rosemary oil may be a great product for hair in general, but there is at least one other ingredient in this particular shampoo that definitely doesn't do my hair any favors. And "organic" or not, if a shampoo says it amplifies or volumizes, it should do that – at least a little! This product helps some people, but didn't benefit my hair."
"I have a lot of very fine hair. Most shampoos really weigh my hair down and make it look flat and dull. This shampoo is awesome. My absolute favorite. I'm not a huge fan of the conditioner and instead use Nature's Gate Henna conditioner. The combination makes my hair look great. The smell is amazing as well. Great to wake up to in the morning."
The last quote is about the Strengthening Peppermint Shampoo, and that's the one I would like to try first. One customer says it left her with light red spots around the hairline and a few other folks confirm that you definitely don't want to get it into your eyes. Being used to Dr. Bronner Peppermint liquid castile soap, I think I'll be fine. It sounds so deliciously fresh!
Avalon Organics shampoo can be found at some local organic and health food stores, and is widely represented online. Take your pick from Luckyvitamin, Walgreens, Vitacost or Naturalhealthyconcepts, or check out all of the Avalon Organics Shampoo on Amazon.
7. Best Organic Shampoo Reviews: NATURE'S GATE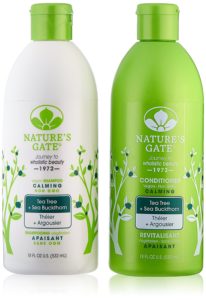 Nature's Gate shampoo is available in the supermarket where I live (not even the organic store, but the nearest grocery store!) which makes it very easy to come by. It's also all over Amazon. I haven't used it in while due to exploring other brands, but it was good back then. It's been so long that I'm wondering if perhaps the formula may have been adjusted in the mean time… since that's something brands do sometimes, right? The packaging has changed for sure.
This shampoo contains a lot of natural ingredients, but it also has a few synthetic ones here and there (polysorbate 20) which caused me to explore other options. Nature's Gate shampoo is still a great choice, and I wouldn't mind giving it another try. Quite nice as well is the affordable price. Despite their beautiful website, I can't tell for certain whether the ingredients are organic or not.
Nature's Gate Shampoo is one of the easier to find brands in stores, though the price may be better through Amazon.
8. Best Organic Shampoo Reviews: ACURE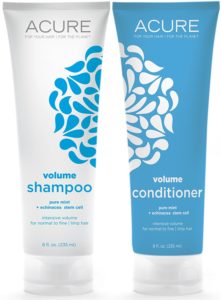 "It's not enough to be natural… It also has to work."
That's one of the slogans on Acure's official website, and a statement I can most definitely agree with. Haven't we all experienced the occasional moment of frustration with a natural and/or organic product that looked fantastic on paper, but performed like total sh#t?
After trying out some face care and a body lotion, I've really fallen in love with this brand. Can't wait to give their organic shampoo a go as well – especially with the rave reviews on both their own website and on Amazon. The first review is too long to include in its entirety, but these are the last lines:
"(…) If you read all of this wordy review, i hope you found any of this information helpful! I encourage you, curly haired woman, woman of all textures, try this product, and be apart of the ACURE family! Thank you ACURE, for making a difference. Happy hair days!!!!!! xoxo"
"I love this shampoo! It's the first natural shampoo I've been able to stick with for 2+ weeks. I could see myself using it long term. I wish it were sold in larger volumes like some of the other shampoos and conditioners."
"This made my hair SO greasy! It might be just the lemongrass one (which, by the way, the smell is very strong and I don't really like it, which surprised me). My hairdresser hated it as well. I don't even go to a fancy salon. Might just be me, but I really didn't like it. I really love Avalon Organics and will go back to that."
"I bought this shampoo on another website after reading great reviews there, and could not have been more pleased with it. I have colored hair. My hair is naturally a light brown, and I dye it platinum blonde, so you can imagine that my hair can be quite dry if I'm not using the right products. This shampoo is hydrating without ever making my hair greasy. The smell is to die for, I love the ingredients (and what is NOT included!), and the price is right. I'm on my 2nd bottle and I have definitely found my favorite shampoo ever in this product."
The last two reviews are about Acure Organics Everyday Clarifying Shampoo with organic argan oil, argan stem cells and lemongrass essential oil. I always like to check out the negative reviews, not only the positive ones, just to see what people are saying. Isn't it amazing how opinions can vary so drastically?!
Find Acure Organics Shampoo through: Naturalhealthyconcepts, Walgreens, Vitacost and Walmart, though some of the best prices are probably on Amazon.
9. Best Organic Shampoo Reviews: ANDALOU NATURALS

Andalou Naturals combines advanced Fruit Stem Cell Science with natural and fair-trade ingredients, with a minimum 70% certified organic content. The meaning of Andalou is 'Path of Light', though I can't find in which language.
This organic shampoo is on my wish list to try sometime soon. I'd probably start with the Argan Oil & Sweet Orange Moisture Rich Shampoo or the Sunflower & Citrus Brilliant Shine Shampoo.
Again, opinions vary – aside from a few haters most people really like this organic shampoo.
"Best and sniffiest shampoo I've ever found. Leaves hair glossy and healthy."
"Smells wonderful. Works great. Seems to have very safe, natural ingredients. It is also much cheaper on here than in the store. I have no complaints about this product whatsoever."
"Extremely drying and damaging."
"I have been a fan of Andalou's skin care line for a few years now. The other day I saw the Sweet Orange shampoo at my local grocer's and thought I would give it a try. I am glad I did! It is very smoothing, and it smells great. I love Andalou products because they are cruelty-free, effective, natural, and cheap! And they smell nice. What more can anybody want?"
"My husband used this at his sister's house. Finding it in stores locally has been difficult (in spite of the Andalou's website store locator). So we're glad to find it on Amazon as part of free shipping packages. A little shampoo goes a LONG way, so this relatively small bottle (11.5 ounces) should last as long as others that are twice as big. The hair feels great."
Andalou Organic Shampoo is easy to find on Amazon.
10. Best Organic Shampoo Reviews: AUBREY ORGANICS

Aubrey Organics official website is rubbish – it shows pictures without any kind of description, not even just the ingredients. Maybe it is in the process of getting a makeover…? Some items just show a generic white box instead of a product picture, so perhaps they're working on it.
Aubrey Organics offers an impressively large selection of shampoos, conditioners and skin care products that are fairly friendly priced. I've tried two of Aubrey's organic conditioners in the past, but never an actual shampoo.  Unfortunately I didn't get to writing a proper review back then, though I do remember vaguely that the organic conditioners were nice. The Blue Chamomile Conditioner was really light blue, and smelled like a Turkish hammam. The second one I tried was the GPB Balancing Protein Conditioner. Both have a matching shampoo available.
In the reviews on Amazon many different people are complaining about how Aubrey Organics has recently changed the formula of at least some of their organic shampoos.
One person specifically mentions the "old" blue colored stuff (which is what I remember using a few years ago) versus a disappointing new runny brown texture. Others rave about how this organic shampoo is purely natural and contains no nasty chemicals at all. Matter of opinion, once again… and another one to go back on my try-out-list! 🙂
Check out Aubrey Organics Shampoo and Conditioner on Amazon.

Bronner! Who doesn't know Bronner? Right, this isn't really a shampoo. Unless you are a modern hippie and use it for the full 18 things listed on the bottle! What are they again – shampoo, body wash, tooth soap, laundry detergent, household cleaner… If you happen to use Dr. Bronner for all those things, I'd love to know how many bottles you go through in a given month.
Here's why I would like to include Dr. Bronner's liquid castile soap into these best organic shampoo reviews: Bronner soap is not my top shampoo choice style-wise, but it is wonderfully natural and the perfect emergency solution to get clean.
Bronner is dependable, although a professional hairdresser like John Masters might cringe at the idea of using liquid castile soap as a shampoo. It leaves my hair a bit coarser than desirable, but hey… fresh it is! And also free of petrochemicals, silicone particles or other nonsense.