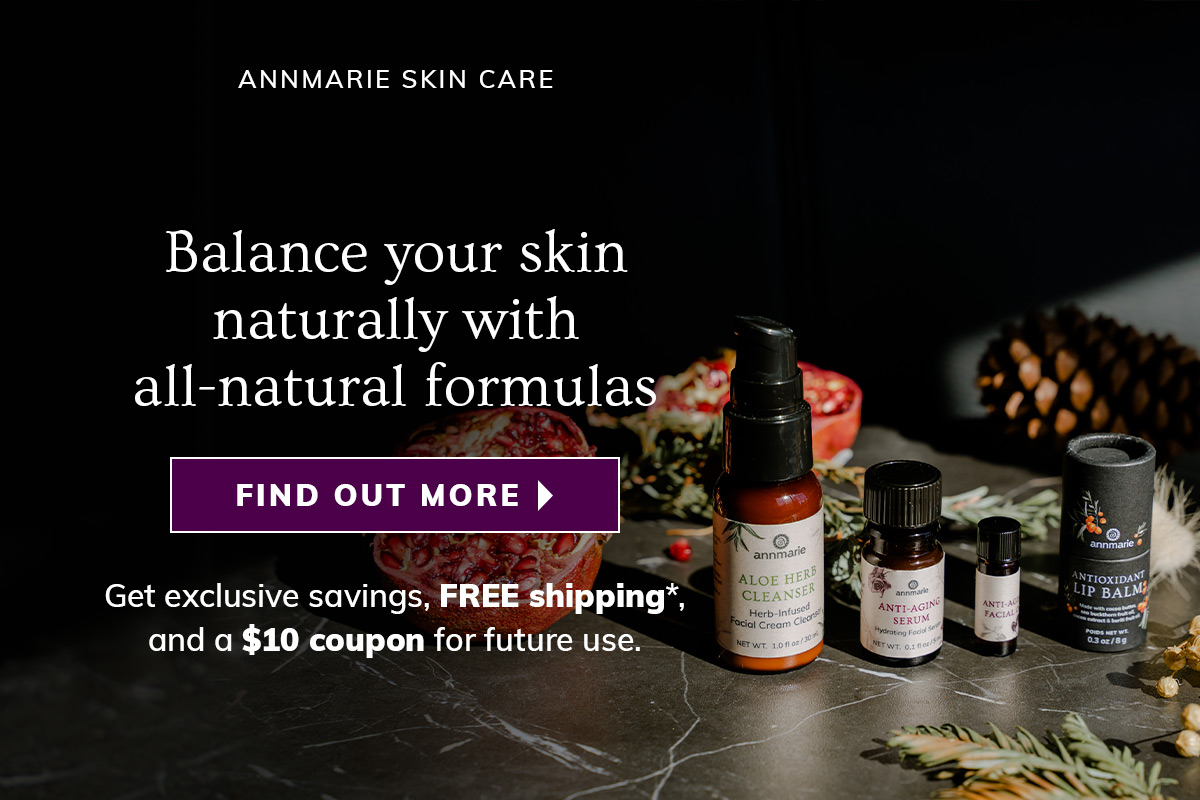 Some of the best organic skincare products use essential oils for acne prone skin. Essential oils have powerful, antiseptic, antibacterial and anti-inflammatory properties. That's why in using essential oils for acne, you can often see the healing of skin lesions take place overnight!
Acne can truly improve with the help of essential oils.
Regular skincare products, even when they feature some essential oils for acne, contains too many synthetic chemicals. The important thing to do first, is to put acne and breakouts on a 'diet' of purely natural, organic skincare. That way, instead of being agressed by harsh chemicals, your skin gets the chance to find its balance. This will help tremendously in clearing up any kind of inflammation, such as acne/pimples.
For a good, natural skincare routine, start with a natural facial cleanser, follow up with a tonic or lotion and end with a natural face moisturizer. Let's look at some of the best organic skincare products, starting with a natural face cleanser.
*The full INCI ingredients for each one of these natural face cleansers are listed further down.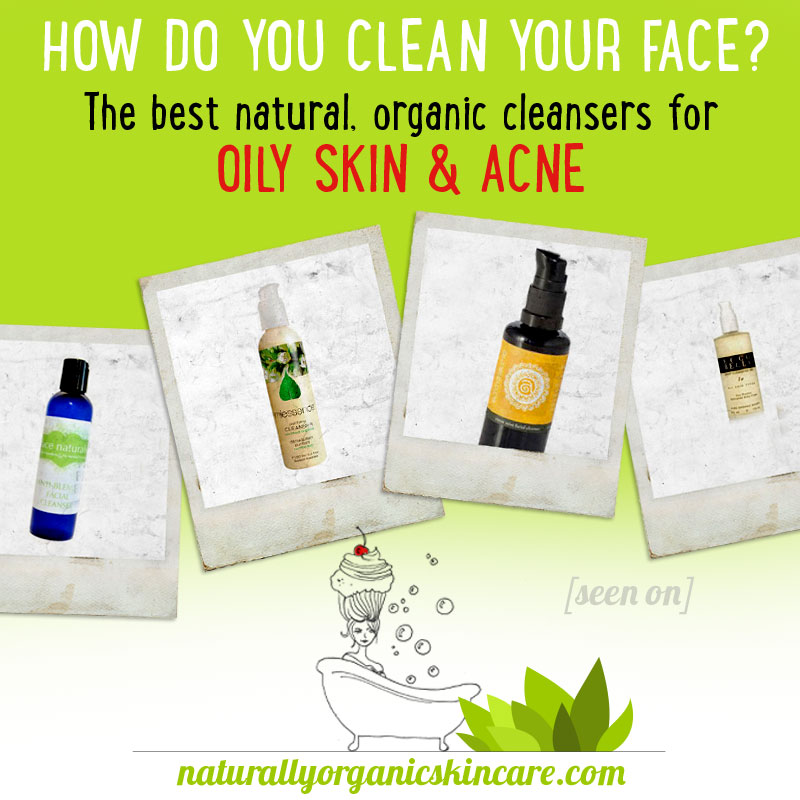 Find a Natural Face Cleanser with essential oils for acne that WORKS.
(These are not in order of efficacy or personal preference.)
1. Natural Deep Cleansing Gel by Ecco Bella
Ecco Bella makes a really great natural face cleanser with essential oils for acne. It's called the Natural Deep Cleansing Gel. Before getting to the essential oils, this natural face cleanser contains extracts of thyme, calendula and chamomile. Thyme is antibacterial and calendula and chamomile are both anti-inflammatory and calming. Perfect for when your skin decides to have those mean breakouts. The essential oils for acne used in the natural face cleanser by Ecco Bella are lavender, rosemary and geranium. Lavender essential oil is antibacterial and works against infections, as does the oil of rosemary. Rosemary essential oil is also antiseptic and increases circulation. Geranium essential oil is antibacterial again, but calming as well and may have a slightly cooling effect on the skin.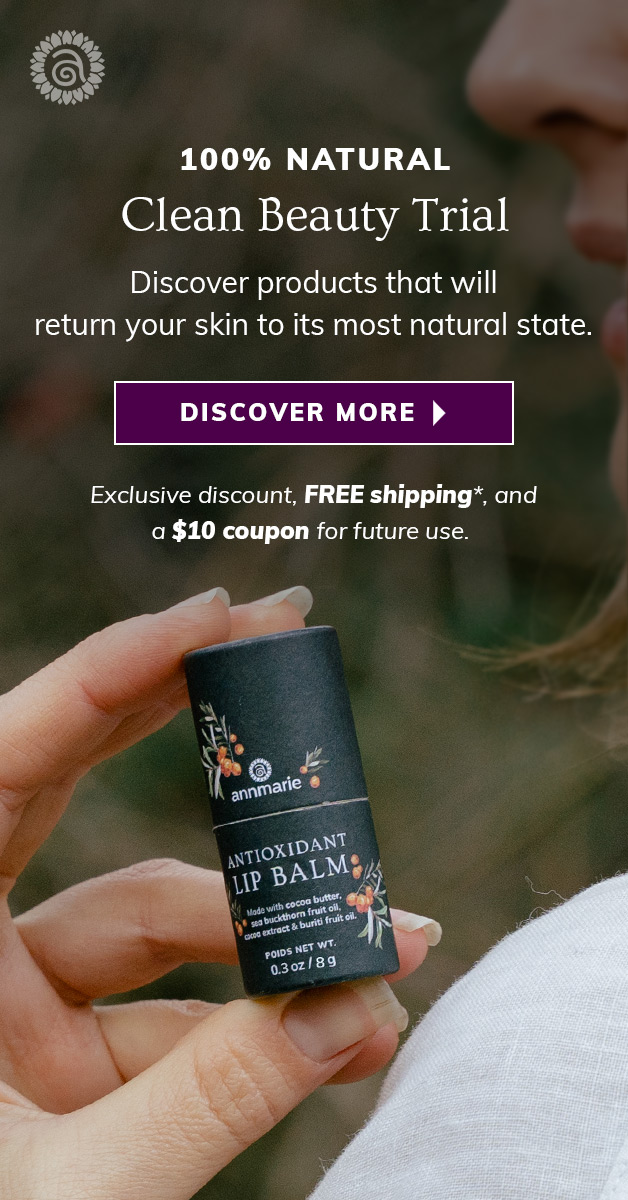 The three essential oils in Ecco Bella's natural face cleanser are a great choice for fighting acne. They work together to combat inflamed pimples, while the cleanser gently washes away rests of makeup and bacteria.
Ecco Bella's natural face cleanser contains 55 % organic ingredients. That's not 100 %, but still really good, considering that the company is clearly devoted to using a many organic skincare ingredients as possible. Their natural skincare is also vegan, gluten-free and (of course) not tested on animals.
Pricetag: $ 24.95   –   Size: 4 oz (Approx. 120 ml)
2. Purifying Cleanser (oily/problem skin) by Miessence
Miessence, the Australian-based organic skin care line makes a gorgeous concontion containing two essential oils and many botanical extracts. The combination of lemon and peppermint essential oil is a great choice in their all-natural purifying cleanser for oily skin with acne, because lemon and peppermint are both exactly that: refreshing and purifying. Miessence has added many other beneficial extracts to this all-natural cleanser: arctium lappa (burdock) extract, echinacea purpurea flower extract, urtica dioica (nettle) extract, plantago major (plaintain) extract, hamamelis virginiana (witch hazel) leaf extract. Witch hazel is astringent and tightens the pores, echinacea helps to fight any kind of infection (you might know it from cough & cold medication) and burdock is a classic to clear up the skin.
The Purifying Natural Face Cleanser is almost entirely organic (10 out of 13 ingredients) and Miessence likes to remind us they are the only company in the world with a carbon-negative (!) footprint.
Pricetag: US $ 46.95   –   Size: 250 ml/8.5 fl.oz
3. Anti-Blemish Facial Cleanser by Face Naturals
Face Naturals makes a natural face cleanser, which is entirely (that's right, entirely!) organic: The Anti-Blemish Facial Cleanser. It contains an interesting selection of essential oils for acne. Tea tree essential oil has been mentioned earlier. What about the other essential oils for acne in this cleanser – clove bud, pink grapefruit and clary sage? Well, clove essential oil is a strong antimicrobial, antifungal, antiseptic and slightly stimulating. Pink grapefruit oil is energizing, refreshing and as many citrus essential oils, it has antibacterial properties. Clary sage helps skin with acne because it is antibacterial, antiseptic and astringent. Astringent is perfect in this case, since acne often goes hand in hand with more oily skin and visible pores.
What a lovely, original selection of essential oils for acne in this completely natural face cleanser, diluted in a blend of saponified organic oils and aloe vera. It is gluten free.
Pricetag: US $ 16.95   –   Size: 4.25 oz (Approx. 126 ml)
4. Citrus Mint Facial Cleanser by Annmarie Gianni
Annmarie Gianni skincare offers the Citrus Mint Facial Cleanser as a solution for oily and acne prone skin. A fresh combination of saponified olive oil and organic aloe vera gel which has been infused with herbs. An impressive long list of herbs, to be exact. Add to that mixture some carefully selected essential oils for acne: lemon, rosemary and lemon myrtle, for a natural face cleanser bursting with goodness. Bad news for the pimples. And while washing your face, drift away to a summer garden… Annmarie Gianni's organic skincare products always amaze me with their gorgeous scent.
Lemon myrtle, also called lemon balm, has only the scent in common with real lemons. It is a native Mediterranean plant in the mint family, smelling like both lemon and mint. Lemon myrtle is a strong antibacterial, antioxidant, and antiviral, making it a great essential oil for acne prone skin. The combination with rosemary essential oil, just like in the first natural face cleanser of this article, and lemon essential oil, creates a sturdy antibacterial, antiseptic and astringent (pore-minimizing) blend. Annmarie Gianni's Citrus Mint Facial Cleanser makes the skin feel very clean without drying it. It's a sovereign blend of medicinal plants and essential oils for acne.
Pricetag: US $ 24.95   –   Size: 50 ml (Approx. 1.7 oz)
Full Ingredients of all 4 Natural (Organic) Face Cleansers
For those of you who like to have a look: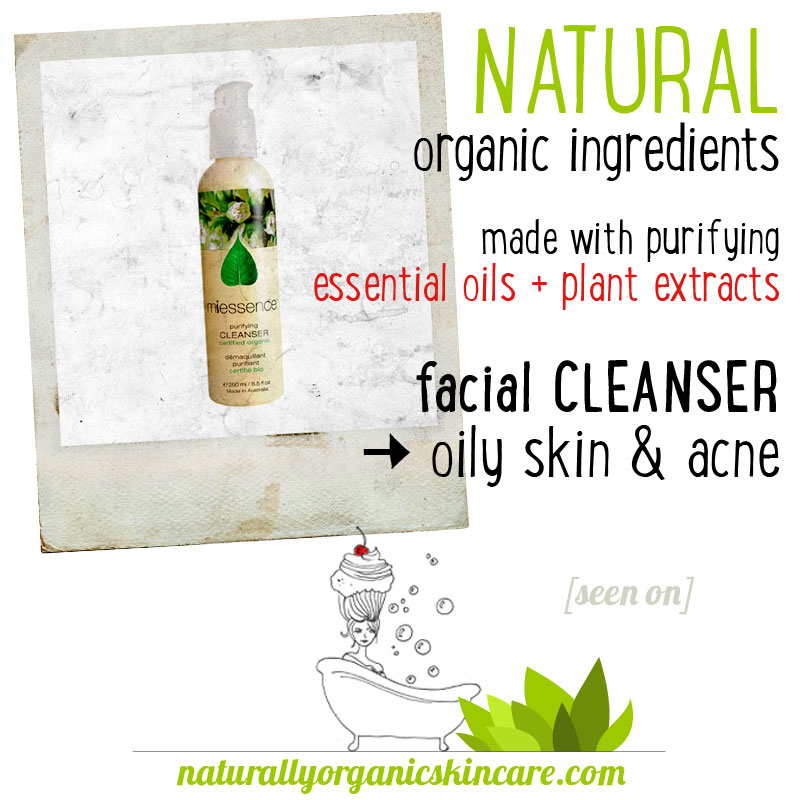 1. Natural Deep Cleansing Gel (Ecco Bella) Ingredients: organic aloe barbadensis lauryl glucoside, lauryl betaine, decyl glucoside (coconut & corn), glycerin, lactic acid, cetyl alcohol, yarrow achillea millefolium, neem azadirachta indica, thyme thymus vulgaris, calendula officinalis and chamomile matricaria chamomilla; organic sunflower oil helianthus annuus, VitaminCells: Soy lecithin liposomes with full-spectrum vitamin E with palm tocopherols & tocotrienols, vitamin C (ascorbyl palmitate), astaxanthin, beta-carotene, lutein, lycopene, zeaxanthin, CoQ10; essential oils of lavender lavandula angustifolia, rosemary leaf rosmarinus officinalis and geranium pelargonium graveolens.
2. Purifying Cleanser (Miessence) Ingredients: certified organic aloe barbadensis (aloe vera) leaf juice, aqua (purified water), yucca schidigera extract, certified organic helianthus annuus (sunflower) seed oil, sclerotium rolfsii gum, citrus aurantium amara (bitter orange) fruit extract, certified organic citrus limonum (lemon) essential oil, certified organic mentha piperita (peppermint) essential oil, certified organic arctium lappa (burdock) extract, certified organic echinacea purpurea flower extract, certified organic urtica dioica (nettle) extract, certified organic plantago major (plaintain) extract, certified organic hamamelis virginiana (witch hazel) leaf extract.
3. Anti-Blemish Facial Cleanser (Face Naturals) Ingredients: (Vegan) saponified oils of organic coconut, organic olive and organic safflower, organic aloe vera, organic clove bud essential oil, organic tea tree essential oil, organic pink grapefruit essential oil, organic clary sage essential oil.
4. Citrus Mint Facial Cleanser (Annmarie Gianni) Ingredients: Love, Herb-Infused Organic Aloe Vera Gel (Organic Aloe vera, Organic Lavender flowers, Organic Lemon balm leaves, Organic Neem leaves, Organic Rosemary leaves, Organic Echinacea flowers, Organic Life Everlasting flowers, Organic Calendula flowers, Organic Comfrey leaves, Organic Plantain leaves, Organic Malva flowers); Saponified olive oil; Witch Hazel Distillate; Vegetable glycerin; Aspen bark extract; Xanthan gum; Organic Lemon oil; Organic Rosemary oil; Organic Lemon myrtle oil; Organic Peppermint oil.
Four great natural face cleansers, largely organic – which one to choose?
This is such a matter of personal preference!
Anything that involves scent, texture and how your skin reacts to ingredients is very much about you as a unique individual. For these exact reasons, it's such a good idea of Annmarie Gianni skin care to offer samples. And then some organic skin care products are cheaper than others, so it could also be a matter of what your wallet allows at the moment.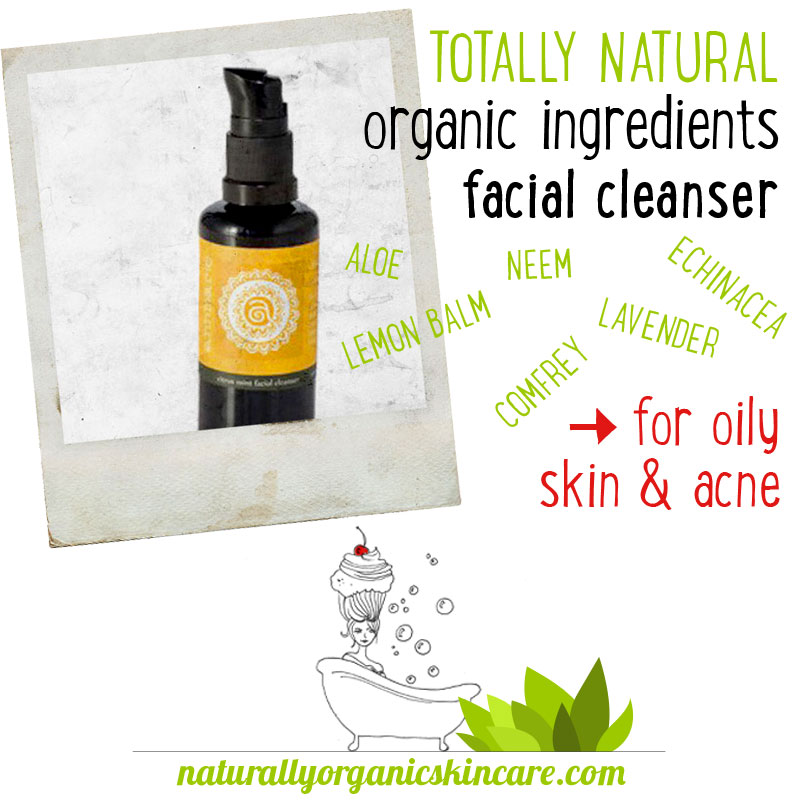 A few pointers:
Ecco Bella's Natural Deep Cleansing Gel stands out by having a rather sophisticated ingredient list. Their website explains how they use a special way of keeping vitamins encapsulated until it's time to release their content on the skin.
Face Naturals' Anti-Blemish Facial Cleanser contains only
a few ingredients, which obviously contributes to a rather friendly pricetag. I haven't tried this natural face cleanser yet, but their choice of clove bud, grapefruit and clary sage essential oils for acne makes it sound like a yummy combo.
Annmarie Gianni makes some of the best organic skincare products for customers in the US. (Unfortunately, due to the weight of glass bottles, international shipping costs are high.) The Citrus Mint Facial Cleanser is heavenly. Give it a try, combined with some of the other gems in her organic skincare line, such as the Herbal Facial Oil for Oily/Acne Prone Skin. I'm completely smitten by everything Annmarie Gianni, as you can probably tell from my Herbal Facial Oil Review. If you want to see, feel and smell why, do yourself a favor and get one of the sample kits. They are so cute it's ridiculous and ship for free all over the world! So, Global citizens out there, there's no reason to deny yourself this little pleasure. 😉 Click here to try a sample of this award winning, natural skin care line.
Miessence's Purifying Cleanser is part of an entire line of purifying face products and can be completed with a matching skin conditioner and moisturiser. This to immerse your face in the Miessence experience entirely. Miessence worldwide shipping costs are very reasonable. The products themselves are not cheap, but considering the nirvana of toxin-free ingredients for your skin and the generously sized bottles, they are worth the investment.
Well, this is how some of the best organic skincare products I could find have teamed-up with essential oils for acne. Hope these pointers may help you to find a great, natural facial cleanser. One that is perfectly suited to your skin, gives it a healthy glow and clears it up where needed, all while keeping the body free of toxins!
What's next?
After all this cleansing-talk, perhaps you'd like to follow with Best Natural Organic Moisturizer for Oily & Acne Prone Skin.
You can also head back to Essential Oils for Acne, What Are The Benefits? or check out one of these random articles:
Do you know of any natural face cleansers that should be mentioned here? Please share…!
P.S. Did you know oil makes a gentle and effective face cleanser? It's called the oil cleansing method. Not strange at all, since oil dissolves oil. Essential oils for acne can be added to a carrier oil to make it super effective. Read more.
Comments
Laura: I was wondering if Dr. Brenner's castile soaps should be on this list?
Hi Laura 🙂 I believe it could be! Even though Dr. Bronner's (I think that's the one you mean?) is perhaps not a specific facial cleanser, it's one of the most versatile cleaning products out there, right? I do use it on my face sometimes, especially in the shower.
What has your experience with Dr. Bronner as a face cleanser been so far? Do you have a certain scent you prefer?